The Scorpion King 2
(2008)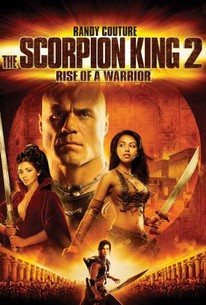 AUDIENCE SCORE
Critic Consensus: No consensus yet.
The Scorpion King 2 Photos
Movie Info
Smashing blend of myth, mayhem, musclemen and magic. Michael Copon takes over for Dwayne "The Rock" Johnson in this prequel, which chronicles the rise of Mathayus, the warrior ruler of an ancient desert empire. Randy Couture costars as the vile and powerful King Sargon, who was responsible for the murder of Mathayus's father. Pierre Marais portrays the Scorpion King as a young man. Karen David, Simon Quarterman. Directed by Russell Mulcahy.
News & Interviews for The Scorpion King 2
Critic Reviews for The Scorpion King 2
Audience Reviews for The Scorpion King 2
Right now this is a prequel to the first Scorpion King film showing 'Mathayus' as a young lad and up n coming warrior. The lead for this film is a guy called Michael Copon and to be honest he does actually look like a young Johnson, credit where credits due the guy does pull off a reasonable young Johnson. The same cannot be said for the dreadful Couture who can't act to save his life, the guy is a meat head and should only be used for fight sequences with his stature, why anyone would wanna use him for a speaking role is beyond me. The rest of the cast aren't too bad with a sexy young female, an intellectual Greek poet, a Chinese acrobat and a few mercs, quite a cute little band in a 'D&D' or 'LOTR' type way. There are still some reasonably high production values here as the film just about looks OK, there is a battle against a Minotaur which could have been worse but has some good editing and a foray into the underworld which has some nice visuals. The finale is rather flat and does have a nasty CGI scorpion to deal with but overall I have seen much worse (this chapter is a bit more mythological), it still could have been much better of course, dealing with a young Scorpion King is good material to be mined but we have what we have.
Phil Hubbs
Super Reviewer
Russell Mulcahy's The Scorpion King 2: Rise of a Warrior is a prequel to a spin-off from a sequel of a remake. None of that matters. Leave this one in the desert where it belongs.
The story itself isn't that bad, but it isn't enough to completely furnish the 1 hour 40+ minute run time. In the end, it is predictable and unexciting.
There is a moderate amount of action and none of it is electrifying or inspiring. The camera angles and editing do wonders at making a lot of it difficult to visualize and absorb, which is probably the next best thing to do when the action isn't great to begin with.
The budget is low; thus making for some poor visuals in the CG department. The final fight almost seems like it is taking a shortcut, just so it doesn't have to fully display the poor quality effects.
This movie is set in the distant past, but some of the dialogue, as well as the acting, are out of place and time. Michael Copon and Randy Couture, the lead hero and villain respectively, both have the looks of their parts, but their performances are bare. The better performances show up in the supporting cast of Karen Shenaz David, Simon Quarterman, Natalie Becker, and Tom Wu.
The Scorpion King 2: Rise of a Warrior lacks many things, so feel free to watch something else.
½
Good film for fun and nice story and landscapes. Interesting, and cool character. good fighting scenes on par with any martial arts film released in hollywood these days. Most fantasy films don't make use of what is on offer and just cram 2 hours full of suprise and really clever concepts about really really stupid things with no relevance to fantasy fans out there. This was quite a solid fantasy film and could have been better with different casting of the undead queen. Special FX weren't impresive
Alexander Wilson
Super Reviewer
The Scorpion King 2 Quotes
| | |
| --- | --- |
| Sargon: | You've come to avenge your father, the great hero? |
| Mathayus: | I fight for more than vengeance now, Sargon. I fight for what my father once believed in. And I fight for what you've corrupted. |