The Seasoning House
(2013)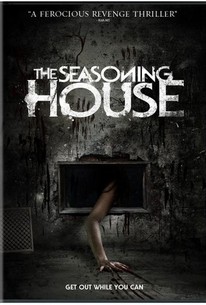 The Seasoning House Photos
Movie Info
The Seasoning House: where young girls are prostituted to the military. An orphaned deaf mute is enslaved to care for them. She moves between the walls and crawlspaces, showing the little kindnesses when she can. When fate brings the men that murdered her family and the reason she ended up in the whore house, a chain of events begins that will end her captivity, free the girls still alive in the house and grant her revenge on the soldiers that destroyed her life.
Critic Reviews for The Seasoning House
Audience Reviews for The Seasoning House
Dull, depressing, deadening and dragging rubbish.
Daniel Parsons
Super Reviewer
½
Bleak, depressing and not easy to watch, The Seasoning House tells the story of a young girl who is held captive in a run down house in the middle of the woods run by what you assume to be some kind of Russian mafia dude, preparing captured girls for nights of sexual abuse at the hands of, well, whatever lowlife shows up it seems. After watching her mother get killed in a brutal shooting, the girl, Angel, has no option but to comply but after making friends with one of the captured girls who she then witnesses get killed, Angel turns into a vengeful badass and uses the insides of the walls to get around the house and get revenge on those around her. I'm usually up for films that make you feel some emotion, anything, even if its dark and fucked up(usually that actually, being a horror fan!), but The Seasoning House is not that likeable and i'm not sure if its the raw and gritty feel, which i'm use to, or the dodgy Russian accents, particularly Sean Pertwee("She's got my gun". No Sean, it's actually your knife!) or I simply can't find any positives from this film. Rosie Day was good as young mute, Angel, though, that's about it. Pertwee's death is horrible enough but if you're even slightly claustrophobic then don't bother! A tough watch that big fans of torture porn might enjoy but that's about it, I'm afraid.
While this film had some really well-done violence and gore, this film is ultimately a shallow experience that is shocking just for the sake of it. It could've been a good revenge thriller if the characters and story weren't as cliched and uninteresting as they were. In this world, no man is to be trusted. We will beat you, rape you, and sell you off into prostitution. Can you imagine the outrage if in any other horror film all the female characters were strippers, hookers, manipulative, and conniving? This film operates on every negative stereotype women have about men. If given the chance, we will all beat you, rape you, and sell you off into prostitution. It's not particularly good storytelling. Not because if what I just mentioned, because if the film worked on negative stereotypes but it was at least interesting or inspired, it wouldn't be much of a problem. But because the film simply wants to shock for the sake of it, then it's far more noticeable. The acting is fine, Rosie Day is quite good even without saying anything. That's the only reason the film gets the rating it does. That and the very gruesome violence. The film is still a relatively shallow horror experience and I wouldn't exactly recommend it.
Jesse Ortega
Super Reviewer
The Seasoning House Quotes
There are no approved quotes yet for this movie.