The Seven-Ups
(1973)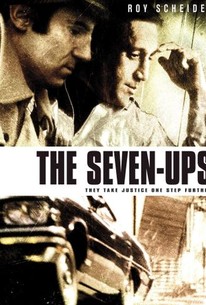 Movie Info
This was the only directorial effort of Philip D'Antoni, producer of the action classic Bullitt (1968). Roy Scheider stars as Buddy Manucci, a New York City Police Department investigator running a task force charged with taking down criminals guilty of offenses that would get them a minimum sentence of seven years in prison upon conviction. Manucci's best street informant is Vito Lucia (Tony Lo Bianco), who double-crosses Manucci by using the lawman's secret list of Mob loan sharks to kidnap the crooks on the list and hold them for ransom. When the scheme results in the death of Ansel (Ken Kercheval), one of Manucci's men, the tough cop and his team, including Barilli (Victor Arnold) and Mingo (Jerry Leon), wage war on the city's underworld. As they bend the law in whatever violent shape they see fit in order to track Lucia down, grisly deaths and a heart-stopping highway car chase along the Hudson River ensue.
Critic Reviews for The Seven-Ups
Audience Reviews for The Seven-Ups
½
Philip D'Antoni directs "The Seven-Ups," about a plainsclothes police unit that uses unorthodox methods to convict criminals who usually see imprisonment of more than seven years. D'Antoni was responsible for producing "Bullitt" and "The French Connection" and this time he directs. D'Antoni does an amazing job behind the camera and the film often times look like "The French Connection" in its gritty portrayal of New York City and police work. Roy Schieder plays Buddy Manucci, who looks so rough that he could be mistaken for a cop and not a movie star. He commands the role with the smarts and instincts his character needs. He is calm when he needs to be and tough when he needs to be. The story revolves around kidnappings of mob bosses for ransom by two men possing as policemen. When the Seven-Ups come across a mob meeting to discuss what's happening, they lose one of their own men. Just like in D'Antoni's previous films, there is a car chase that is just as exciting as the last two films. A great police drama that is full of twists and turns and quite a clever story.
Joseph Boomhower
Super Reviewer
Having produced the perennial cop drama classics The French Connection and Bullitt, producer Philip D'Antoni decided to direct his own entry into this genre. Oddly enough, this was his only film as a director for some reason. The film follows a group of tough cops named after the minimum sentence the majority of the perps they go after would receive for their crimes. They work under the radar, kinda like a black ops group of sorts, and the tactics these guys use rival those of the thugs they're supposed to go after. Man, gotta love the hard-boiled 70s. The plot is pretty standard, involving the mob, kidnapping, murder, and betrayal, and, while it's not quite as good as the two movies I mentioned earlier, it is nevertheless a pretty solid and enjoyable movie...definitely underrated. Roy Scheider is in the lead, and, he's as reliable as ever, though, like this, movie, he's still pretty underrated. I unfortunately don't remember much of the performances from the others, but I doubt they were god awful or anything. As good as this movie is, I think what keeps it from being truly great is that it just doesn't have the charm or excitement (overall) to make it truly memorable. There is one scene, maybe the only scene that most people seem to know of, that really shines. It's a car chase scene, and yes, it is cool. High stakes, high speed, great stunt work, and all done practically. There's some other good scenes, but none ever top this one, but at least it takes place in the middle of the film, instead of forcing the viewer to sit through tons of biuild up and putting it at the very end. I'm running out of things to say without repeating myself, so let's just leave it as this being a good, though somewhat dull movie that could have been better.
Chris Weber
Super Reviewer
It's like The French Connection 1 1/2, with Roy Scheider in a sort-of remake of his F.C. role only this time without Gene Hackman to steal scenes. It's an interesting film about a group of ruthless cops who do whatever it takes to apprehend criminals and get results doing it. The car chase is probably my favorite in the history of cinema, better than Bullit maybe? Definitely worth a viewing.
Derek Daniels
Super Reviewer
The Seven-Ups Quotes
There are no approved quotes yet for this movie.