The Shallows
(2016)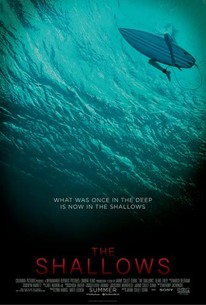 TOMATOMETER
AUDIENCE SCORE
Critic Consensus: Lean and solidly crafted, The Shallows transcends tired shark-attack tropes with nasty thrills and a powerful performance from Blake Lively.
Movie Info
In the taut thriller The Shallows, when Nancy (Blake Lively) is surfing on a secluded beach, she finds herself on the feeding ground of a great white shark. Though she is stranded only 200 yards from shore, survival proves to be the ultimate test of wills, requiring all of Nancy's ingenuity, resourcefulness, and fortitude.
Critic Reviews for The Shallows
Audience Reviews for The Shallows
½
A simple premise of a surfer trying to survive on a tiny reef just outside the bay while being surrounded by a shark only works if you have a likable heroine and a couple of decent ideas up your sleeve. Thankfully, the creators of this film didn't try to drag it out too long but instead deliver a mean, exciting film that makes the best of its limited plot. Some parts seem a bit random but overall it's a fun ride for as long as it lasts.
½
An average shark thriller.
Film Crazy
Super Reviewer
½
One-location thrillers usually have mixed reviews, due to their lack of sucking every average moviegoer. They will either become entranced by the performances and be along for the ride, or they will end up hating the film for being too boring and not exploring. Being a film fan in general, I always look forward to these types of films, due to the fact that I want them to surprise me. I can say without a doubt that The Shallows impressed me. I will get to just how much a little later. If you have any intention in watching this film, I highly recommend staying away from most of the trailers. It makes the film look much cheesier than it actually is and also gives away the most exciting moments of the film. Here is why The Shallows is better than any of its trailers suggested. Following a die hard surfer (Nancy), played by Blake Lively, she arrives at the beach to ride some of the most beautiful tides on the planet. Her mother, who had died of cancer not too long ago, mentioned this place to her, so she felt the need to explore these waters. Not knowing that a shark has emerged, she will eventually have to learn to either fight back or find a way back to shore after being stranded without her board or any forms of communication. As simple as this premise is, this 80 minute film is filled with much more character depth than one might expect when going in, but it truly makes the tension that much better. While simple films like this will not be remembered (to the average moviegoer) for how they were made or how they were shot, I personally found myself more engaged, because of the way this film was shot. The sweeping shots of the ocean, the close-ups on Blake Lively's face when it is most important to see her reactions, and the (with every pun intended) depth of the ocean shots. The camerawork throughout this film really pulls you into the overall picture. Being shot almost entirely on the beach and in the water, the task of making you feel like you are there with Nancy must have been a daunting task for everyone involved. That being said, they pulled it off with ease in the end. While you shouldn't go into this film expecting the most practical effects or to be blown away by incredible storytelling, it is without question that there are some great thrills to be had. My biggest complaint would have to be in the storytelling area. Sure, as I mentioned, there is no need for a popcorn flick like this to be incredible deep, but the dialogue that comes out of Blake Lively throughout this film made me chuckle at times. She is definitely giving it her all here, but the script does treat the viewers like they are 10 years old. That bothered me throughout the entire film, but everything else was pretty effective. From the CGI on the shark, to the CGI on Lively's face when she's riding her waves, to the overblown climax, you can tell that you are watching a film that was intended to be seen as a B-movie. What I loved is that it felt like a B-movie with class. In the end, The Shallows does not break any new ground for its genre, but when you are up against films like Jaws or films of the like, it is hard to impress everyone. Blake Lively gives it everything she has and the action sequence in the finale does not disappoint, as long as you can suspend a bit of disbelief. While it does have a cheesy screenplay at times, the fun elements and thrilling moments more than make up for it. The core story and underlying backstories play into this film more than I expected them too, making for a very enjoyable film. At just over 80 minutes, this film is an easy watch, so I would definitely recommend giving it a rent. The Shallows is by no means great, but it is a fun little thriller.