The Silence of the Hams
(1994)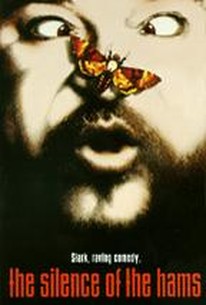 Movie Info
This Italian comedy offers an episodic parody of classic thrillers and horror movies. The story begins as director Ezio Greggio is being stabbed ala Psycho in his shower. Before he dies he recaps the events leading to his death.
Critic Reviews for The Silence of the Hams
Audience Reviews for The Silence of the Hams
The Master has lost his touch. So sad.
Christian C
Super Reviewer
If you come up to me and tell me that The Silence of the Hams is one of your favorite screwball comedies then I'll shake your hand and probably buy you a drink. It's one of my favorites too, and one that I hadn't seen in over a decade since it first started airing on HBO. I just recenly saw it and fell in love with it all over again. Sure a lot of the jokes aren't funny, and yes they're pretty cliche'd at times too, but damn is the movie enjoyable. It's a bit of a mish-mash of different horror movies. Most notably Psycho and The Silence of the Lambs, but it also takes a stab at Mel Brooks... literally. There are also cameos by Joe Dante, John Landis and John Carpenter that pop up here and there, basically sealing the deal for me. I'm sad that Ezio Greggio didn't have immediate success with the movie and was allowed to make more of these types of movies. He's pretty good at it. Even if they're not perfect, they're far better than anything that the Wayans brothers and Jason Friedberg & Aaron Seltzer ever put out. Trust me on this.
Tim Salmons
Super Reviewer
½
As bad as this film may be at least it's not a Wayans travesty. The movie seems to have its own rhythm where you think it's the worst thing ever made and then one line, or cameo, will redeem it and you're pulled back in. The summary line of this review is an example. Yes, 'the lady in blue' line is incredibly lame and the visual gags, such as the orchestra playing the score, are clichéd but the film has a reckless charm and Dom DeLuise can't help but be great in anything he does. I'd recommend this to no one in particular. Perhaps, if like me, you were ill in bed and the remote control was out of reach and you were too weak to call for help then watch this film.
Cassandra Maples
Super Reviewer
The Silence of the Hams Quotes
There are no approved quotes yet for this movie.