The Sin of Norma Moran
(1933)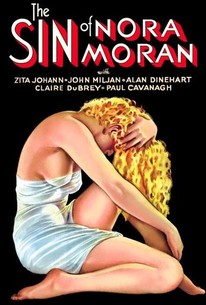 AUDIENCE SCORE
Critic Consensus: No consensus yet.
The Sin of Norma Moran Photos
Movie Info
Having confessed to murder, Nora Moran (Zita Johann) sits sadly on death row, waiting her date with the electric chair. In flashback, the audience is apprised of the events leading up to this present sorry state. It turns out that Nora is innocent; she has taken the blame to shield her lover, Governor Bill Crawford (Paul Cavanaugh) -- the only man who can issue the pardon that will save her. Ridden with guilt, Crawford desperately tries to phone the prison and rescue his sweetheart before it's too late. A trick-ending allows the audience to make its own mind up regarding the outcome.
Critic Reviews for The Sin of Norma Moran
Audience Reviews for The Sin of Norma Moran
The movie starts with Mrs. Edith Crawford(Claire Du Brey) storming into the office of District Attorney John Grant(Alan Dinehart), also her brother, demanding to know about the steamy letters written by Nora Moran(Zita Johann) to her husband, Dick(Paul Cavanagh), the governor. John, then, patiently explains as to how Nora not only came to write those letters but also to be on the death row at the age of 21. Such a tale of woe begins with Nora being adopted at a young age and then cruelly orphaned again a few years later. But she does not give up, pursuing a career in dance in New York City which is fruitless until the circus comes calling. While novels had already employed stream of consciousness at this time, it is very unusual and innovative for a movie like "The Sin of Nora Moran" to use it. To its credit, it utilizes the technique to great effect in its suspenseful story that keeps the twists and turns going until the very end. That's not the only way this movie is ahead of its time as it also takes well-aimed shots at moral hypocrisies while also detailing the death penalty of the electric chair.
The Sin of Norma Moran Quotes
There are no approved quotes yet for this movie.