The Sleeping City
(1950)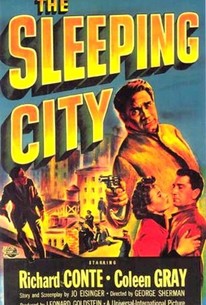 AUDIENCE SCORE
Critic Consensus: No consensus yet.
Movie Info
One of the finest and most troubling films to come out of Universal-International, The Sleeping City tried to emulate some of the cinéma vérité elements of The Naked City (which had been produced at Universal's facilities). The producers got the permission of the city of New York to shoot at Bellevue Hospital, and, in exchange, opened the movie with a disclaimer spoken by star Richard Conte, stepping out of character to point out that nothing like the story in this movie ever happened at Bellevue and offering tribute to the actual hospital and its staff. That's the last reassuring moment that one will find in this eerie crime drama -- in the first six minutes, a young doctor taking a break from work is shot in the head, and the police can't find a clue even as to a possible motive. Inspector Al Gordon (John Alexander) decides that he has to put some men on duty at the hospital, and one of them is Fred Rowan (Richard Conte), a detective with experience as an army medic, masquerading as an intern. What Rowan finds is a high-pressure world in which interns are hopelessly squeezed for time, sleep, energy, and -- most of all -- money, and walk a fine line on the edge of personal and professional disaster. His roommate, Steve Anderson (Alex Nicol), seems especially desperate. The only relief from the bleakness and tension, on a personal level, comes from the attentions of Ann Shelton (Coleen Gray), the ward nurse in traumatics, where Fred is assigned, and the good-natured needling of Pop Ware (Richard Taber), an elevator operator who likes to take an avuncular interest in the interns around him. But before he can get too far in his investigation, potential witnesses start dying around Rowan , and one of his friends at the hospital is threatened. Soon the whole scheme and the motives for the murders suddenly become clear, along with Rowan's earlier failure to spot the clue he needed. He also suddenly recognizes the involvement of the people closest to him at the hospital, but before the squad can move, he also finds his own life at risk.
Critic Reviews for The Sleeping City
All Critics (3) | Fresh (2) | Rotten (1)
After a highly promising beginning, this one degenerates into the most routine sort of cop-versus-killer mellerdrammer.
Just barely recommendable, mostly because of Sherman's direction and the smart, well-plotted script by Jo Eisinger.
Audience Reviews
There are no featured reviews for The Sleeping City at this time.
The Sleeping City Quotes
There are no approved quotes yet for this movie.