The Small Back Room
(1952)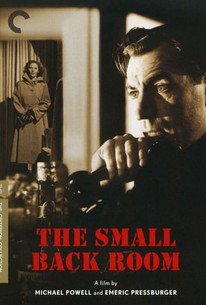 The Small Back Room Photos
Movie Info
In 1948, "The Archers" -- the writing and directing team of Michael Powell and Emeric Pressburger -- had completed The Red Shoes, one of their greatest international successes, but it had yet to be released when the Rank Organization, doubting the commercial appeal of the picture, severed ties with the team and Powell and Pressburger signed a new deal with Alexander Korda's London Films. Their first project for Korda, The Small Back Room, was a dramatic change of pace, a thriller set in London in the midst of World War II. Sammy Rice (David Farrar) is explosives expert who works with British military intelligence as part of a ragtag munitions research team studying new ways to defuse enemy weapons and improve allied arms. While he's brilliant on the job, Rice is a troubled man with an artificial leg that causes him chronic pain and an appetite for alcohol that stands between him and those around him, especially his girlfriend and secretary Susan (Kathleen Byron). Rice's latest project is finding a way to defuse a new German bomb that's cleverly disguised as a children's toy, but Rice finds himself battling his superiors when Waring (Jack Hawkins), an unscrupulous businessman who has been pressed into service with the explosives team, and his colleague Professor Mair (Milton Rosmer) begin lobbying the Army to purchase a new weapon that Rice feels is both ineffective and dangerous. Despite excellent reviews and a fine cast that includes Cyril Cusack, Sidney James and Robert Morley in a cameo appearance, The Small Back Room was a box office disappointment on its original release, and it appeared in edited form in the United States under the title Hour of Glory, though later video releases allowed Americans to see the film in its original British cut.
Critic Reviews for The Small Back Room
Audience Reviews for The Small Back Room
Perhaps a movie too adult for the movies, this one involves the men who toil in secret to diffuse enemy science threats during WW2. In particular is one employee, a natural born leader who doubts himself, who suffers as he had his foot blown off during the war, who when unable to procure the dope to dull the pain subsitutes whiskey. And he's in love with the secretary at the office. As I said, all of this is played as maturely as possible and the work surprises because of it. This is a dour work, but good.
Kevin M. Williams
Super Reviewer
½
[font=Century Gothic][color=seagreen]"The Small Back Room" is about the problems and work of a weapons researcher in London in the spring of 1943. While battling alcohol because of a crippling injury, he is investigating booby trapped bombs that the Germans are dropping all over England and advising on a new gun. The movie is lacking slightly in plot, but it makes up for it in characterisation, performances and beautiful camerawork. The film's climax and a hallucinatory sequence are definite highlights. I also liked that it is a movie about wartime that is just as much about saving lives and finding a reason to live, as much as anything else.[/color][/font] [font=Century Gothic][color=#2e8b57][/color][/font] [font=Century Gothic][color=#2e8b57]"The Small Back Room" is written and directed by Michael Powell and Emeric Pressburger. They would also collaborate on other interesting movies of the period including "The Red Shoes", "Stairway to Heaven/A Matter of Life and Death", "I Know Where I'm Going" and "Black Narcissus."[/color][/font]
The Small Back Room Quotes
There are no approved quotes yet for this movie.