The Smurfs 2
(2013)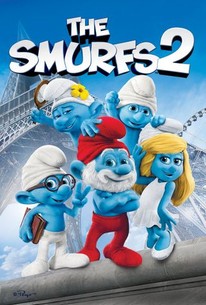 TOMATOMETER
AUDIENCE SCORE
Critic Consensus: Like its predecessor, Smurfs 2 may amuse small children, but it's largely an unambitious, charm-free collection of slapstick gags and one-liners.
Movie Info
The Smurfs are back with this follow-up to the blockbuster smash hit from 2011. J. David Stem and David Weiss provide the script, from a story they wrote with Jay Scherick and David Ronn. ~ Jeremy Wheeler, Rovi
News & Interviews for The Smurfs 2
Critic Reviews for The Smurfs 2
Audience Reviews for The Smurfs 2
½
La la la-la la, The Smurfs 2 sucks. There's nothing too juvenile or stupid for this movie, no joke that's too low-brow or cartoonish. With absolutely no respect for its audience, The Smurfs 2 is a horrible smurf-tastrophe.
Dann Michalski
Super Reviewer
½
Get ready to get naughty! Good for kids, bad for adults! While I have seen a fair number of kids movies over my time, I ,like one of the other reviewers, found the movie boring and did not enjoy. There's no point in pulling punches here because, let's face it, these movies are meant as a distraction for kids. The jokes are bad, the acting is cheesy and the story isn't complicated. The whole point of the first film was to be something that will dazzle children with jokes only kids can laugh at and some brightly colored characters dancing across the screen. The formula for this sequel doesn't change that. The only real difference I saw in this one was that it looked like the writers were trying to add a little more heart to the story by throwing in heavy elements of belonging and family. Once again, this movie is intended to bring smiles to little kids who still think boogers are the height of cuisine but, at least, the film felt like it was trying to make some improvements and strides to make this a better family film than the last one...also, the special effects are still decent, so it has that going for it. The evil wizard Gargamel creates a couple of mischievous Smurf-like creatures called the Naughties that he hopes will let him harness the all-powerful, magical Smurf-essence. But when he discovers that only a real Smurf can give him what he wants, and only a secret spell that Smurfette knows can turn the Naughties into real Smurfs, Gargamel kidnaps Smurfette and brings her to Paris, where he has been winning the adoration of millions as the world¹s greatest sorcerer. It's up to Papa, Clumsy, Grouchy, and Vanity to return to our world, reunite with their human friends Patrick and Grace Winslow, and rescue her! Will Smurfette, who has always felt different from the other Smurfs, find a new connection with the Naughties Vexy and Hackus or will the Smurfs convince her that their love for her is True Blue?
Hank Azaria is the best reason to watch these Smurf films. He steals the show as Gargamel. He reminds me of Dr. Evil from the Austin Powers films. Overall, I had the same reaction to this film as I did the original. It is cute and has some good moments. I only recommend the film, for Azaria's performance in it.
The Smurfs 2 Quotes
| | |
| --- | --- |
| Vanity Smurf: | A friendly socialist |
| Vanity Smurf: | A friendly socialist. |
| Grouchy Smurf: | No. She's with Gargamel |
| Grouchy Smurf: | No. She's with Gargamel. |
| | |
| --- | --- |
| Victor: | I'm just smurf-ing with you |
| Victor: | I'm just smurf-ing with you. |
| | |
| --- | --- |
| Papa Smurf: | Smurf-xactly |
| Papa Smurf: | Smurf-xactly. |
| | |
| --- | --- |
| Papa Smurf: | It doesn't matter where you come from, what matters is what you choose to be. |