The Song of Songs
(1933)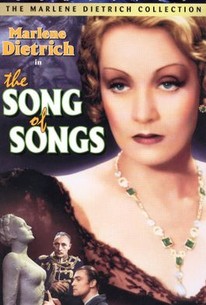 Movie Info
Song of Songs was the first Marlene Dietrich vehicle not directed by Dietrich's "Svengali," Josef von Sternberg. The star plays a zaftig German peasant girl who becomes a nude model (anything to get her out of those ill-fitting 1890s costumes!) She falls in love with a struggling sculptor (Brian Aherne), but her ambitions get the better of her and she marries a hedonistic baron (Lionel Atwill). Leaving her husband, Dietrich sinks further down the social scale by becoming a cabaret singer. She is eventually reunited with the sculptor, but not before smashing the nude statue based on her voluptuous frame, thereby symbolically purging her checkered past. Song of Songs was based on a Herman Sudermann novel, previously adapted into a stage play and then filmed twice during the silent era.
Critic Reviews for The Song of Songs
Audience Reviews for The Song of Songs
½
The plot to this film is pretty simple, but wow, Marlene Dietrich is fantastic in the leading role, and director Robert Mamoulian makes the most of his actors and the script in crafting a beautiful film. Dietrich skillfully handles her role which shifts from a naïve young country girl, to a model and lover of a sculptor, to the unhappy wife of an older man, and lastly to a cabaret girl. Her performance is especially impressive for the time, when over-acting and exaggerated facial gestures were common; Dietrich by contrast is polished and smooth, sexy in a sultry, understated way, and quite a singer on top of all that. Director Robert Mamoulian, who also directed the brilliant Dr. Jekyll and Mr. Hyde in 1931, pulls all the right strings here, and there are some beautiful shots, examples of which are shifting clouds in front of the moon and sunlight reflecting off the water as Dietrich is out riding. The movie is also elevated by quotes from the poetry of the Biblical book of the Song of Songs, and it's a nice mix of sophistication and pre-Code naughtiness. The scene when Dietrich disrobes for a nude modeling session, where Mamoulian cuts to sculptures to represent her body, brings a smile. The plot itself isn't going to blow you away, but Dietrich will. Very enjoyable.
Antonius Block
Super Reviewer
The Song of Songs Quotes
There are no approved quotes yet for this movie.