Breaking the Sound Barrier (The Sound Barrier)
(1952)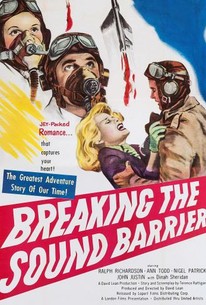 Breaking the Sound Barrier (The Sound Barrier) Photos
Movie Info
Breaking the Sound Barrier juxtaposes the history of jet aviation with an intensely personal fictional story. Ralph Richardson plays a wealthy aircraft manufacturer, stubbornly determined to develop a jet that will travel faster than the speed of sound. Richardson's seemingly cavalier attitude toward the pilots who have died on behalf of his dream--including his own son (Denholm Elliott)--has turned his daughter (Ann Todd) against him. When the daughter's fighter-pilot husband (Nigel Patrick) agrees to test Richardson's jet, he too loses his life. The daughter walks out of her father's life and sets up residence with the wife (Dinah Sheridan) of another pilot (John Junkin). Richardson approaches this pilot as well with his challenge--and this time the "sound barrier" is successfully broken without anyone being killed. Reconciled to the fact that her father's apparent coldbloodedness was in the interest of scientific progress, the daughter and her newborn child are reconciled with Richardson. The first independent project of director David Lean, Breaking the Sound Barrier was a huge success, persuasively scripted by Terence Rattigan and beautifully photographed by aerial specialist Jack Hildyard. The film's original British title was simply The Sound Barrier, but the American distributor apparently didn't want filmgoers to think the movie was about the record industry.
Critic Reviews for Breaking the Sound Barrier (The Sound Barrier)
Audience Reviews
There are no featured reviews for Breaking the Sound Barrier (The Sound Barrier) at this time.
Breaking the Sound Barrier (The Sound Barrier) Quotes
There are no approved quotes yet for this movie.