The Sound of Fury (Try and Get Me!)
(1950)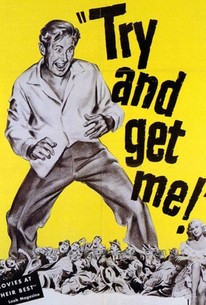 AUDIENCE SCORE
Critic Consensus: No consensus yet.
The Sound of Fury (Try and Get Me!) Photos
Movie Info
After a pair of men murder their kidnapped victim, they find themselves the targets of a small-town manhunt in this suspenseful drama featuring Frank Lovejoy and Lloyd Bridges.
Critic Reviews for The Sound of Fury (Try and Get Me!)
All Critics (3) | Fresh (1) | Rotten (2)
In searching out odd tidbits of reality, the director (Endfield) deserves a TV set for trying valiantly.
Forceful, bitter, and evidently designed to be as unpalatable as possible.
One of the most powerful statements ever from a Hollywood film about the class divide in America.
Audience Reviews for The Sound of Fury (Try and Get Me!)
½
In "Try and Get Me," Howard Tyler(Frank Lovejoy) has no luck finding work either at home or on the road, which is especially problematic with his wife Judy(Kathleen Ryan) expecting their second child. Howard is so desperate that he accepts an offer from Jerry Slocum(Lloyd Bridges, surprisingly effective) to be a getaway driver. But at least the money is good. Newspaper columnist Gil Stanton(Richard Carlson) does not see it the same way, of course. First and foremost, "Try and Get Me" is a movie of the period it was made when a neighborhood gathered around a single television set and also one very much ahead of its time, not only in the ingenious way it was crafted, but also in its attitudes.(Judy dreams of a painless childbirth while another character states she is saving herself for marriage to her friend who certainly isn't. And this was 1950.) I would also not disagree with the assessment that this movie was unique for its time in its exploration of class issues, encapsulated perfectly in a cut from Howard fantasizing about the perfect barbecue to it really happening at Gil's.(This was also before microbreweries and hence beer snobs.) But that's all we really needed of Gil, as he exists solely as a stand-in for yellow journalism and to have conversations with the Voice of Reason(Renzo Cesana) about the need for fair trials and a society without violence. I mean after that climax, what more needs to be said?
½
What starts as a conventional drama of a man in a tight spot unexpectedly becomes an indictment of careless journalism and mob rule and is all the better for it. Some of the acting is overwrought, Lloyd Bridges in particular lets it fly ever now and then, but not enough to dimish the message of this little known but effective film.
The Sound of Fury (Try and Get Me!) Quotes
There are no approved quotes yet for this movie.