The Spirit
(2008)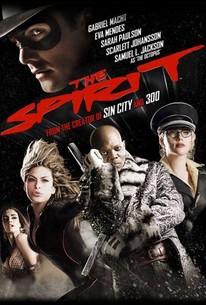 TOMATOMETER
AUDIENCE SCORE
Critic Consensus: Though its visuals are unique, The Spirit's plot is almost incomprehensible, the dialogue is ludicrously mannered, and the characters are unmemorable.
Movie Info
A resurrected cop does battle with a villain whose quest for immortality threatens an entire metropolis in Sin City creator Frank Miller's adaptation of Will Eisner's acclaimed graphic novel. When a rookie cop is brutally killed and mysteriously brought back to life, he assumes the guise of The Spirit (Gabriel Macht) -- a masked crime fighter who prowls the shadows of Central City on a supernatural mission to keep the urban landscape safe. Upon discovering that his arch nemesis, The Octopus (Samuel L. Jackson), is determined to live forever even if it means wiping out the entire population of Central City, The Spirit must race to stop the diabolical villain from achieving his cold-blooded plan. But even with his unique powers, the brave masked crusader will face a series of deadly challenges as a bevy of treacherous beauties including deceptively sweet girl next door Ellen Dolan (Sarah Paulson), spitfire secretary Silken Floss (Scarlett Johansson), wraithlike siren Lorelei (Jaime King), seductive policewoman Morgenstern (Stana Katic), and French black widow Plaster of Paris (Paz Vega) set out to seduce or consume him at every turn; even The Spirit's one true love, a volatile jewel thief named Sand Saref (Eva Mendes), could ultimately destroy our hero before he accomplishes his mission of saving Central City. ~ Jason Buchanan, Rovi
Critic Reviews for The Spirit
Audience Reviews for The Spirit
½
Back in 2005 Frank Miller hit the big time (in the movie world) with 'Sin City', a lavish living graphic novel with lush visuals. So clearly not one for sitting on his new found success he went ahead and made another living graphic novel which utilised the exact same visual style. Now one the one hand it worked because like 'Sin City' the film looked terrific, on the other hand it basically felt like a poor sequel of sorts to that better movie. The Spirit is another typically suave suit wearing crime fighter very much in the same vein as The Shadow, that now cliched 30's/40's pulp comic/novel type avenger. Apparently his nemesis The Octopus created a serum that could grant people immortality, and he tried it on murdered police officer Denny Colt (The Spirit). Colt then somehow escapes The Octopus and for some reason decides to fight crime in his city, Central City, now that he is invincible. The Octopus now needs the blood of Hercules (called Heracles for some reason) to perfect his serum so he can use it...I think. The main problem with this movie being the plot and characters. The plot is...is...I honesty have no real idea what the hell was going on with this plot. Something about The Octopus trying to get a hold of these two trunks, as is sexy femme fatale Sand Saref, one containing the blood of Hercules and the other the Golden Fleece...eh? The entire movie is really quite a mess and didn't make much sense to me. The Spirit is suppose to be immortal I think, he can regenerate after being injured, yet he keeps having near death experiences and nearly dies on a few occasions. He does come across as quite vulnerable to be frank and has these dreams where the Angel of Death taunts him presumably because he escaped her grasp...its weird. At one point Colt wears body armour too, I guess this is too limit damage because it takes time to regenerate? I'm still not entirely sure why The Octopus wants this special blood seeing as his serum worked pretty well on Colt, and I don't know how the Golden Fleece fits into all this either truth be told. After reading up about this character I can see why many fans didn't like it and why it bombed. The movie is completely different from the original source material in virtually every aspect. The Spirit has a sidekick in the comics, The Octopus doesn't bring Colt back and you never see The Octopus in the comics, they could have done that easily so I dunno why they went with Jackson like they did. On top of that the plot is so convoluted and never really explains itself as far as I can recall. Other issues that spring to mind would be the simple fact this character is way too similar to other shadowy heroes. For any viewer who isn't a fanboy of the comic and knows nothing (like me) then this will all look very familiar and very dated. The whole facet of the character has been done many times, hell even his look has been done to death (The Shadow, Darkman). Running around from shadow to shadow in a dark crime ridden city full of seedy dark alleyways isn't anything new. This hero even has a police chief on his side who is the only person to know his secret identity...oh geez! Admittedly this character does date back to the 40's and back then this kind of stuff was fresh, but even so The Shadow had been around since the 30's so its easy to see where the inspiration came from. Unfortunately this movie just came along too late and has lost out, beaten to the punch by various other similar characters. Of course the film looks good no one is gonna dispute that. That classic detective crime genre soaked in heavy film noir visuals that have been amped up with the same use of digital backgrounds/foregrounds we all saw and fell in love with in 'Sin City'. As I've already said these two movies are visually identical with their colour palette and stark images. Thick blacks, thick whites, bold lines, lots of angles, inverted colours and images and the slight hint of colour on certain objects like The Spirits bold red tie. To watch and show off your new bluray player with...its the business, but again you could say its been done already with Miller's last flick. The cast are a poor choice right across the board with the exception of Dan Lauria as the hard nosed gruff Commissioner and honesty Macht isn't too bad as The Spirit, he looks good in the role. Again I firmly believe Jackson was cast purely because he's a big name and will attract a wide audience despite the fact he just doesn't fit the role. I will say the same for Johansson too...yep that's right, too many movies suffer this fate these days and Jackson is the biggest culprit. You kinda get the impression Miller was just riding on the coattails of his previous big success to be honest. Thinking that everybody would lap this up purely because it looked like 'Sin City' and that's all it needed to succeed. To a degree he was right, these visuals are delicious and I'd like to see more and this film is really nice to look at...its just everything else. It pains me to say but this is one of those films that I really wanted to enjoy but I just couldn't. If it wasn't for the fact it looks so good it would have been a complete write off.
Phil Hubbs
Super Reviewer
½
[img]http://images.rottentomatoes.com/images/user/icons/icon14.gif[/img]
Directors Cat
Super Reviewer
½
Boy....this was the shits. It's like Frank Miller learned something while watching Robert Rodrigues work his magic on Sin City. And then...he did the exact same thing here...but without the director skills of Robert Rodriguez. And with a boring plot. The visuality is the only impressive thing about this...some of it very impressive if you feel me ;) overall...MINUS FIVE STARS!
Martin Sahlin
Super Reviewer
The Spirit Quotes
There are no approved quotes yet for this movie.