The SpongeBob SquarePants Movie
(2004)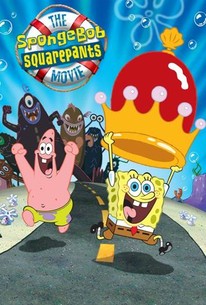 The SpongeBob SquarePants Movie Videos
The SpongeBob SquarePants Movie Photos
Movie Info
Something nefarious is afloat in the depths of Bikini Bottom: King Neptune's crown has been stolen, and the prime suspect is Mr. Krabs, SpongeBob's boss at Mr. Krabs' Krabby Patties. Despite the overwhelming evidence against Mr. Krabs -- not to mention having been turned down for a long-awaited promotion at the restaurant -- SpongeBob (voice of Tom Kenny) refuses to believe that his boss is responsible and teams up with his best friend, Patrick (voice of Bill Fagerbakke), on a mission to Shell City, where he hopes he can exonerate Mr. Krabs and return the crown to its rightful owner. Of course, this is no easy task; once outside the safety of Bikini Bottom, SpongeBob is faced with the overwhelming dangers of the sea, not the least of which being a cyclops that many believe to be responsible for the deaths of countless other unfortunate sea-creatures who ventured outside county lines. Among those who lent their vocal chords to the film include Scarlett Johansson, Jeffrey Tambor, and Alec Baldwin. ~ Tracie Cooper, Rovi
News & Interviews for The SpongeBob SquarePants Movie
Critic Reviews for The SpongeBob SquarePants Movie
Audience Reviews for The SpongeBob SquarePants Movie
Probably one of the funniest animated films of all time. The film follows the show very faithfully while adding on some new twists to it and it ends up being probably one of the best, if not the best, TV to movie adaptation. The timing for the jokes are fantastically well pulled off, and they keep me laughing every time I watch the film no matter how many times I watch it. Also the comedic voice acting and characters also add to the humor of the film and it is pulled off very well. Also having the film take place in the live action world for about 15 minutes adds a lot of new material that the film can work with, and the scene is pulled off phenomenally well when adding the cartoon characters to the live action world.
Michael Edwards
Super Reviewer
I'm a huge fan of Spongebob seasons 1-3, which is basically the Golden Age of the show. After this film, the show went downhill and now lacks the smartly written humor it had before. Honestly, almost every episode of the first three seasons are great. I come to this film and vent my anger because it's the turning point of the show... into lame, unfunny, trite. But the film itself is alright; the humor is hit and miss.
Eric Shankle
Super Reviewer
I grew up with Spongebob Squarepants, at the time of this films release I was in love with Spongebob and Patrick and I was over the moon when I found out there was going to be a film released. The first 3 seasons of the show were the best...and then this was made. After this film the writers were fired and the creator of Spongebob Squarepants left the show to nickelodeon. The show was then driven into the ground and became un-funny and predictable. This film is an under rated animated classic that is close to my heart and the last good material I ever saw of Spongebob Squarepants. Hilarious!
Directors Cat
Super Reviewer
The SpongeBob SquarePants Movie Quotes
| | |
| --- | --- |
| Dennis: | Alright! Enough gag. |
| SpongeBob SquarePants: | What are you going to do to us? |
| Dennis: | Plankton was very specific. |
| SpongeBob SquarePants: | Plankton? |
| Dennis: | For some reason he wanted me to step on you. |