The Stanford Prison Experiment
(2015)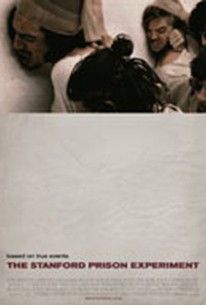 TOMATOMETER
AUDIENCE SCORE
Critic Consensus: As chillingly thought-provoking as it is absorbing and well-acted, The Stanford Prison Experiment offers historical drama that packs a timelessly relevant punch.
The Stanford Prison Experiment Photos
Movie Info
Based on the real-life research of Dr. Zimbardo (who was a consultant on the film), The Stanford Prison Experiment is a dramatic period piece that remains relevant over 40 years later. (C) IFC Films
News & Interviews for The Stanford Prison Experiment
Critic Reviews for The Stanford Prison Experiment
Audience Reviews for The Stanford Prison Experiment
½
Starting with the last movie I reviewed (American Violence), all of my reviews will now be simultaneously be posted on Letterboxd as well as on Flixster. I'm not writing a different review for each site, naturally speaking, I'm just gonna copy-paste it. In Letterboxd, much like Twitter, you have the ability to follow people and vice versa, so I may actually end up having followers who read my reviews. That's not my goal, though, I've always done this because it's fun for me and not necessarily because I want people to read my shitty reviews. But that's neither here nor there. Hello to my new Letterboxd 'friends' (I don't have any yet), it's business as usual for Flixster. Moving on to the review. Ever since I've heard of the Stanford Prison Experiment, it's been several years now, I've been fascinated by it and the results that the psychologists behind the study hoped to attain. It's a subject that, to me, has always made for an incredibly subject to explore in films. In fact I've seen two films inspired by this experiment. Those movies are: Das Experiment (a German flick) and The Experiment, which is a remake of the former. The former was very good and the latter was good as well, if only a slight notch below the original. I think the films that are inspired by this event have more freedom in that they can make the guards in the experiment even more detestable and then they can use the fact that the guards keep pushing the prisoners to a point where the only logical response is to violently push back against the oppressors. So it makes for a more satisfying narrative in that these people, who take their pretend authority way too seriously, get their comeuppance during the film's climax. I know this film wasn't gonna have any of that, since the experiment itself was terminated almost a week after it started (out of an original two-weeks assigned for it). Even with the fact that you don't get to see the guards get their comeuppance after their escalating psychological abuse and degradation of the prisoners, the film is still a fascinating exploration of power, abuse of authority and how, at a point when they're broken down emotionally, the prisoners just sort of accept their lot in life. It gets to the point where the prisoners actually start to talk about their parole as if it was a real thing and this wasn't just an experiment that they could, literally, quit at any time they wished necessary. One of the many things that I liked about this movie is that, unlike the others I mentioned, this film takes a measured look at the people in charge of the experiment and how Dr. Zimbardo, the man behind this experiment, was unable to maintain separation from this and how he, whether directly or indirectly, helped influence the actions of the guards under his 'command', as it were. Zimbardo is portrayed as a man who will let just about anything happens as long as he is able to see this experiment through. He encourages humiliation, degradation, depersonalization, stripping away the inmates' individuality, among many other things. He does not care about the fact that the inmates themselves might break under pressure, it's all meant to help get him his results. But the problem with the real life study, that wasn't explored in this movie, is that the sample size used for this experiment is too small for extrapolation and the fact that the experiment ended up using mostly white males from similar backgrounds. Results of the experiment would have been limited considering this fact, if the result had a more varied participants from different backgrounds and with different viewpoints, results might have been different and more relevant. I wish the film would have explored more of that, but it was not to be. But I think one of the things that you get from the film, and from the study itself, is that people with those sadistic tendencies ended up escalating their treatment of prisoner in their roles as guards. I suppose you could say that the guards, and the prisoners, acted precisely in the way that they were expected to. The dynamics of this all is one of the most interesting things to watch play out. When it comes to some real-life cases, I've always been of the opinion that documentaries end up being more interesting than their film counterparts. This is one of the few exceptions where a reenactment is far more dramatic and infuriating than a documentary would have been. Though I do believe a documentary might have been more in-depth. But seeing the guards act the way they do toward the prisoners makes you more invested in this story. I suppose you could say that the 'mob mentality' took over, but I would like to think that, if I was put into that same situation, I would not find it within myself to psychologically degrade and humiliate other human beings just for my own amusement or to exert my authority. All in all, I would have to say that I found this to be a really damn good movie. It is thought-provoking, captivating and relevant even to this day. Not to mention the fact that the acting is top-notch, you end up completely detesting most of the guards (since not all of them acted like major dickwads) and you empathize with the prisoners and the hell they were being put through for an experiment that, really, was flawed in its approach right from the start. I wouldn't say that it's perfect, no movie ever is, but I'd highly recommend this even if you're familiar with the experiment. It's pretty damn enthralling.
Jesse Ortega
Super Reviewer
In grad school I interned at the Center for the History of American Psychology, which is an archive and museum in Akron, Ohio. I worked in close proximity to one of the doors from the makeshift prison cells as well as one guard uniform and one prisoner uniform. Based on my short time working there, when I became aware of the new Stanley Milgram film called Experimenter (streaming on Netflix), I had to watch it too. These two films would make an interesting double feature. The Stanford Prison Experiment is such an intriguing and terrifying real-life story. Billy Crudup plays the creepy professor Zimbardo who doesn't seem to know the limits of appropriate psychological tests. The selection process is portrayed as shoddy, accepting too much of the survey results at face value. Ezra Miller would be the star of this ensemble piece as the rebellious Daniel Culp or prisoner 8612. Authority, conformity, group think, and violence in the context of prison or the military are explored. But as some of the characters point out the experiment is constructed falsely and turns nightmare-ish. We see some of the drama recreated in the scientific candid observations of 16mm footage, but then we are not allowed to remain objective as the modern day video camera gets uncomfortably close to the misuse of power.
Byron Brubaker
Super Reviewer
½
The Stanford Prison Experiment is a frustrating watch. The guards negatively treat the detainees in ever increasing shocking and dehumanizing ways. Initially a few prisoners resist with acts of rebellion, but more often than not they start to concede to their situation. Their passive acceptance is no less disquieting. This conduct over the course of the drama is not an easy watch. What we see is personalties change. These are not prisoners/guards. These are privileged upper-middle-class college students attending Stanford. Guards grow sadistic while prisoners become submissive. They act out the roles expected of them in a way far beyond what anyone involved with the study could have expected. The undertaking is a bit exasperating. I had many questions and concerns about how the whole operation was handled and the validity of the results. However, as a document of a notorious experiment gone wrong (or right depending on what you wanted to prove) I found it to be an arresting study in human behavior. I can't say I enjoyed The Stanford Prison Experiment, but I did respect the craft that when into making it. fastfilmreviews.com
Mark Hobin
Super Reviewer
The Stanford Prison Experiment Quotes
| | |
| --- | --- |
| Peter Mitchell: | blow it out your ass, mr. correctional officer! |
| Peter Mitchell: | Blow it out your ass, Mr. Correctional Officer! |
| | |
| --- | --- |
| Daniel Culp: | this is all real. They won't let you go! They won't let us leave! |
| Daniel Culp: | This is all real. They won't let you go! They won't let us leave! |
| | |
| --- | --- |
| Christopher Archer: | Prisoner. |
| Dr. Philip Zimbardo: | Why is that? |
| Christopher Archer: | Because nobody likes guards. |
| | |
| --- | --- |
| Andrew Ceros: | Should we step in? |
| Dr. Philip Zimbardo: | No, let's let the guards figure it out. |