The Steps
(2015)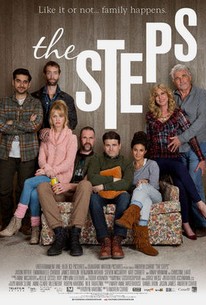 Movie Info
An uptight New Yorker and his party girl sister visit their Dad's lake house to meet his new wife and her rough-around-the-edges kids, prompting a clash of cultures quickly descending into chaos. When the "step" parents announce they are also adopting a child to bring this "family" together, lingering bitterness and current disappointments wreak havoc as these strangers slowly, and hilariously, figure out how to perhaps become a family.
Critic Reviews for The Steps
Audience Reviews for The Steps
½
This movie certainly means well, but there's no denying the fact that this just ends up feeling like a more adult version, in that all of the children are grown up, of the Brady Bunch or Yours, Mine and Ours.  While this film is certainly a little more serious as it explores some real themes, like Jeff struggling with the fact that his father is now a changed man despite never actually being there for him and his sister when they were growing up.  And now all of a sudden here's his father who's embraced a very different lifestyle than the one he was used to and it throws him off.  It's not like it's great or anything, but at least the film wants to do something with one of its characters.  But there's also parts of the movie, where Jeff and Marla try to interact with their new step-brothers that end up feeling somewhat sitcom-y.  Though, if I'm being fair, the movie doesn't really make much of an attempt to be a hilarious movie.  It's got some laughs here and there, but it's more about the dynamic between two very different types of dysfunctional family.  Jeff and Marla have a more troubled relationship with their father whereas Sam, Keith and David aren't perfect, but it's very obvious that they are all really close to her and appreciate the sacrifices that she's made to get them where they are as men.  So it's about that dynamic and how the two sets of 'children' interact with each other as they're forced to act like a family for the sake of their respective parents.  And that leads to one of the most perplexing elements of the film.  What I mean by that is the fact that the only reason Ed and Sherry even invited their children to Canada is for them to put up a charade that they're a happy, loving family so that Ed and Sherry are allowed to adopt this seven-year-old Chinese girl.  It's perplexing because Ed, Marla's and Jeff's father, has never been there for his children and the moment he does want them to be close to them is for his own selfish reasons.  Yet, for some reason, this is never actually brought up in the movie by Jeff, who's more hostile and resistant to this scenario when compared to everyone else.  It would have been so easy.  Jeff can claim that his father didn't even want to reconnect with them, he just wanted to use them for his own needs.  It was so fucking easy and it was handed to them on a silver platter.  Yet they did nothing with this.  It is what it is, but this was somewhat perplexing.  You know exactly how this film plays out.  Jeff's ways end up splitting the family apart and he has to bring them all together by the film's end in order for Ed and Sherry to be allowed to adopt a child.  It's a little absurd that all of their issues were resolved as easily as they were, but it's not like this movie relied on realistic character development to get its point across.  It's not bad, I'd say it was only average at best.  The acting is more than solid though, probably the best part of this film in all honesty.  I wouldn't recommend it, but the movie offers a fairly decent diversion.
Jesse Ortega
Super Reviewer
The Steps Quotes
There are no approved quotes yet for this movie.