Fung wan II (The Storm Riders 2) (Storm Warriors)
(2009)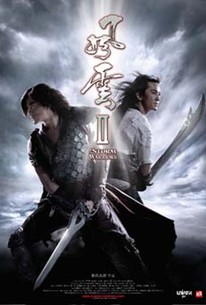 AUDIENCE SCORE
Critic Consensus: No consensus yet.
Fung wan II (The Storm Riders 2) (Storm Warriors) Photos
Movie Info
An epic battle is played out by warriors harnessing the power of the elements in this effects-laden fantasy /action drama from the sibling directing team of Oxide Pang and Danny Pang. The brave Lord Nameless (Kenny Ho) is the leader of a band of heroic warriors with remarkable powers and skills. Nameless's nemesis, Lord Godless (Simon Yam), is a warlord from Japan with designs on Nameless's territory in China, and in a daring raid he captures Nameless, imprisons his soldiers and takes control of his land. As things look hopeless, three of Nameless's allies set out to free him: Cloud (Aaron Kwok), Wind (Ekin Cheng) and Chu Chu (Yan Tang). The three warriors call upon Lord Wicked (Wong Tak-bun) for help, while Cloud absorbs Nameless's powers and gifts for sword fighting and Godless's son Heart (Nicholas Tse) runs wild across his father's new property. As Cloud absorbs what he's learned from Nameless and Wind is tutored in combat by Wicked, can they fend off Godless, Heart and their allies? Fung Wan II (aka The Storm Warriors) is a sequel to the 1998 blockbuster Fung Wan: Hung Ba Tin Ha (aka The Storm Riders); both films were adapted from stories from Ma Wing-shing's long-running comic book series. ~ Mark Deming, Rovi
Critic Reviews for Fung wan II (The Storm Riders 2) (Storm Warriors)
There are no critic reviews yet for Fung wan II (The Storm Riders 2) (Storm Warriors). Keep checking Rotten Tomatoes for updates!
Audience Reviews for Fung wan II (The Storm Riders 2) (Storm Warriors)
½
Nice followup may not be as strong as the first, but remains entertaining.
Anthony Valletta
Super Reviewer
The sequel of 1998's Storm Riders is a basically 300: the martial arts movie. It has been designed as a special effects extravaganza with many epic battles (which is expected when good and evil come to the party). Disappointed, the result, though, is often visually second-rate. With almost no dialogue (a mixed blessing) or character development. Storm Warriors also completely overuses slow-motions. When someone's fist has actually hit its target, so much time has passed you've forgotten what they're supposed to be fighting about. Despite its many, many failing. Believe it, I really liked the original one than this sequel.
Dean McKenna
Super Reviewer
½
The Pang's Storm Warriors is a film that falls short of expectations.
The alternate title, Storm Riders 2, is deceiving, because other than the 2 main characters, any other resemblance to the first film isn't visible, if there is any at all.
The plot is as thin as ice. The dialogue comes in small amounts and there is just enough explanation to get by. The characters also lack sufficient development. With that said, this picture is roughly 110 minutes and more than half of that, including almost all of the final 45 minutes, is action oriented.
The action is extremely stylized as the fights contain tons of slow motions shots and CG effects. The slow motion disappoints, but the effects are quite amusing.
There are some big names in the cast; however it is really hard to praise, as well as fault the acting. The quantity of dialogue is low to begin with and it doesn't help when the 2 leads, Aaron Kwok and Ekin Cheng, have as few lines as they do. Charlene Choi also spends much of her time spitting out character names in her lines.
Other than the constant visual explosiveness, Storm Warriors is a tough film to get into. Approach with caution.
Fung wan II (The Storm Riders 2) (Storm Warriors) Quotes
There are no approved quotes yet for this movie.