The Story of Mankind
(1957)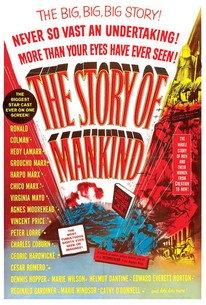 AUDIENCE SCORE
Critic Consensus: No consensus yet.
The Story of Mankind Photos
Movie Info
The phenomenal success of Mike Todd's Around the World in 80 Days (1956) inspired several directors to make similarly lavish all-star extravaganzas. This effort comes from a young Irwin Allen and features a blockbuster cast. The sprawling plot is based on Hendrik Willem Van Loon's best-selling 1921 book. It is framed by the story of a Celestial tribunal convened to debate the worthiness of humanity following the invention of the hydrogen bomb sixty years ahead of schedule. Their arguments will determine whether or not the leader of the Supreme Tribunal (presumably God) will authorize the destruction of planet Earth. The Spirit of Man (Ronald Colman in his final film appearance) points out all of humankind's achievements for good while wily Satan (Vincent Price) calls men worthless. Both of their points are illustrated via vignettes. Highlights include Hedy Lamarr as Joan-of-Arc, a young Dennis Hopper as Napoleon and Peter Lorre as Nero. The Marx Brothers also made their final appearance as a team. Interestingly, each appeared separately. Groucho played a lusty Peter Minuit, the Dutchman who bought Manhattan from the Indians, while Harpo played Sir Issac Newton. Chico played a monk. Hailed by some as one of the worst movies ever, The Story of Mankind proved one of the biggest box-office bombs of the '50s.
Critic Reviews for The Story of Mankind
Audience Reviews for The Story of Mankind
This movie isn't as long as I had dreaded, so I was happy about that, but then on the other hand I was disappointed that we didn't get to see all of the great actors for very long. They all had short scenes, except for Price and Colman. I think maybe packing a film with so many stars wasn't such a great idea, although it does draw in more fans. This story has been seen before in many other more exciting movies too, so it doesn't even have that going for it. Overall, it was interesting to watch, and I loved Price and Colman, but it's not a great movie.
½
Not very good but a cavalcade of familiar faces camping it up.
The Story of Mankind Quotes
There are no approved quotes yet for this movie.