The Story of O
(1975)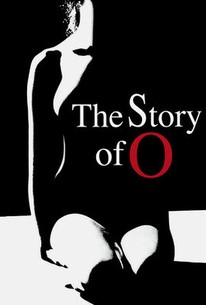 Movie Info
Based on the best-selling novel by Dominique Aury (who wrote it under the pen name "Pauline Reage"), this erotic tale of sexual dominance and submission was directed by Just Jaeckin, who was following his success as the creator of another softcore erotic film, Emmanuelle (1974). French fashion photographer O (Corinne Clery) is spirited away by her boyfriend Rene (Udo Kier) to a retreat where she is imprisoned by a jailer, Pierre (Jean Gaven), whose job is to beat her when she is disobedient. O is outfitted in garb that makes her sexually available to a variety of anonymous partners, the entire episode designed to prove Rene's love for and possession of O. Pierre's task is to break her spirit and make her submissive, but he does not entirely succeed. Returned to Paris, O resumes her life with Rene, their relationship strengthened by the experience. Rene jeopardizes their future, however, by attempting to "give" O to his stepbrother, Sir Stephen (Anthony Steel), who begins to fall in love with his new prize. After the early 1980s explosion in the video rental market, the film was followed by a sequel, Histoire d'O: Chapitre 2 (1984). ~ Karl Williams, Rovi
Critic Reviews for The Story of O
Audience Reviews for The Story of O
The film is amazing to look at, everyone involved is incredibly gorgeous and the locations are all fantastic, and the performances are pretty good, too, but it's hard to ''enjoy'' given how mysoginist it comes out. It's very interesting to explore relationships through sex, and how love can make a slave out of us all, but not when the film only gives women such a hard time about it.
Quinto Wallight
Super Reviewer
½
One of the hardest things to do for me is watch a film adapted from a novel I have read. Sadly, one is often expecting more and left with less, and for this reason I resisted watching this movie for many many years. But I can say, the purist might easily find many faults, indeed I had, but as a film I can respect it and recommend it as a good film about romance, titillation and for its time a bold attempt to capture a complex and controversial novel on film. The casting was mostly superb. Each main character was believable, even if they did not fully walk off the pages so to speak. As the title character, Corinne Clery physically fulfilled the part of O, and I found her to have delivered a lovely rendering of the character, as the other actors seemed to also achieve. The Story of O is a love story, and at bottom I think the film artfully delivered a good romance movie. I expected bad pornography but was very pleased with the it, certainly it has some kitsch and the S&M might offend some, but even that actually gets delivered rather gingerly and I thought respectfully. Perhaps that is my greatest concern with the film, that it gently tells a hard story, that it masks what should have been unmasked, but it is unfair to pommel the film over that because I am not certain the real story could have been told on film even in France. It is respectful criticism that I only fault the film for drifting from the story on points that I feel cause the film to become more about filming than storytelling. I also must say that the film at times was too literal from the novel and seemed to lose some of the context that I say this in recognition that the novel is not an easy story to convey because it is subject to a lot of interpretation by the reader. I think the more tragic ending of the book would not have served this film, the apparent happy ending for O and Rene and Sir Stephan makes this film its own interpretation, one I can respect and even enjoy. I recommend a reading of the book to any viewer and feel that if one can view how O is pursuing uninhibited and unconditional love, even at great sacrifice, then both book and movie might have greater impact than a visage of Ms. Clery's lovely body and some kinky overlays of Sadomasochism.
David Ladd
Super Reviewer
WTF??? Seriously WTF? This movie is only for you masochists and crazy women. Or if you are 13 - serious T&A in this. PEACH right up your alley - you can stream it on netfix and fast forward through the talking. Set in the days of when men were men and women were...hairy. It's a garden woman, let it grow!
Chad Roesti
Super Reviewer
The Story of O Quotes
There are no approved quotes yet for this movie.