The Strangers
(2008)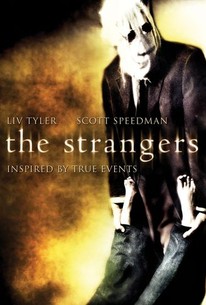 TOMATOMETER
AUDIENCE SCORE
Critic Consensus: The Strangers has a handful of genuinely scary moments, but they're not enough to elevate the end results above standard slasher fare.
Movie Info
Explore your worst fears imaginable in this Unrated version, now with never-before-viewed scenes too shocking and intense for theaters! After a 4 a.m. knock at the door and a haunting voice, Kristen McKay (Liv Tyler) and James Hoyt's (Scott Speedman) remote getaway becomes a psychological night of terror as three masked strangers invade. Now they must go far beyond what they thought themselves capable of if they hope to survive.
News & Interviews for The Strangers
Critic Reviews for The Strangers
Audience Reviews for The Strangers
An inconceivably horrid display of sadism with an amount of stupidity that I can't remember seeing before (and I really wanted to punch Bertino in the face for raping my brains like that), relying on two characters who seem to be competing for most shockingly stupid of all time. (Zero stars)
Carlos Magalhães
Super Reviewer
½
Horror elements work and it effectively relies on a super slim story. Other then that, this film becomes frustrating
½
To briefly sum up the film for those people with little time or short attention spans, here is a brief summary: it's an average flick with some jumpy moments and a lack of story. Now, for people with more time and are happy to read that little bit more, here is the usual more detailed review! The Strangers is just one of those films you wonder what was going through the director's head when they made this! The Strangers is a sort of Slasher film about a night where a guy proposes to his girlfriend, is rejected, and then they all start getting attacked by people with masks on their faces, as you do! Really, it's not that great a film; it provides few scares, little point and a lack of violence as well! It would probably have been acceptable had it actually had more of a story to it, other than the random terrorisation. The story is sort of believable, but leaves you thinking of a few questions you would want to ask the main characters: "If you could run out of the house, why didn't you run away from the attackers?", "Why didn't you leave earlier when things began to get weird?" and "Is there a possibility that the events would have been different had she said yes to the proposal?" But we can only wonder, and what I would like to leave you with is this: don't watch it, unless you need a little bit of light entertainment to pass 1 hour and a bit!
BG Movie Reviews 2011
Super Reviewer
The Strangers Quotes
| | |
| --- | --- |
| Kristen McKay: | (scared and crying) There's someone out there... |
| Kristen McKay: | There's someone out there. |
| | |
| --- | --- |
| James Hoyt: | I haven't heard a dog bark, a car pass, nothing. |
| | |
| --- | --- |
| James Hoyt: | Im going to open the door and i just want you to run, okay. |
| Man in the Mask: | [starts busting door down with axe] |
| Kristen McKay: | Ahhhhhhhhh!!!!! Ahhhhhhhhhh!!!!!!! |
| | |
| --- | --- |
| Dollface: | Your gonna die. |