The Substitute
(2007)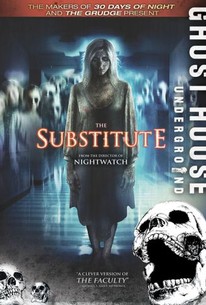 AUDIENCE SCORE
Critic Consensus: No consensus yet.
Movie Info
When a sixth grade class gets a malevolent new substitute who aims to train her students for an upcoming international competition in Paris, the suspicious students attempt to uncover the truth about their strange new substitute. The parents all seem to love the newly arrived educator, but the students know better. No only does this strange new arrival have a sadistic streak a mile wide, but she also seems to possess telekinetic powers in addition to having the ability to read minds. Paprika Steen stars in a sci-fi flavored thriller directed by Ole Bornedal (Nightwatch).
Critic Reviews for The Substitute
There are no critic reviews yet for The Substitute. Keep checking Rotten Tomatoes for updates!
Audience Reviews for The Substitute
½
This movie was ok and pretty creepy at times, this is definetely not a childrens movie. This is a Danish movie about a 6th grade class who gets a new substitute teacher as their old teacher has got sick. She shows some weird and evil sides alread from the beginning and the children are afraid. When she wants to take the class to Paris the children begin to panic because they don't want to be taken away by her. The parents of course don't believe the children when they try to reveal her.
Naughtia Nahazhina
Super Reviewer
½
The Substitute is a cool little sc-fi/horror film part of the "Ghosthouse Underground" productions, which released a string of horror films, many which are being released to DVD just in time for the Halloween season. Among the Ghosthouse Underground production films is the atrociously bad "Dance of the Dead". Being that Dance of the Dead was so horrible I was extremely skeptical about The Substitute being an even remotely satisfying film. Because I'm a very open minded person I give every horror film a chance, and even though Dance of the Dead sucked, I'm not going to exclude all Ghosthouse Underground films from my viewing pleasures. Yes, I was indeed worried about The Substitute being total crap, but let me tell you...I'm sure glad I watched it! A good way to describe The Substitute would be saying it's like "The Faculty" meets "The Goonies". Yes, it's rated R, but don't expect and any gore or any hard violence. There's not even any blood, no nudity, or anything extreme at all. It earned it's R rating simply for just a few "F" words. The Substitute plays more like a kid film. As a matter of fact, without the few scenes of profanity, The Substitute would feel more like a soft PG-13 horror film. Plot: "6th Grade gets a new substitute teacher. She wants to train the class for an international competition in Paris. But something isn't right. How is she able read kids' minds? Why is she so mean? And how does she manage to convince everyone's parents she is so great when the whole class knows she is really an alien?"
The performances here are all solid, even from the kids. Each kid is very likeable and fun. The whole damn movie is fun! An interesting and unique story to go with it as well. The humor isn't laugh out loud funny, but let me tell you, it's very sharp and it's smart. The dialogue is intelligently playful and cool. The movie is faced paced and witty. The Substitute is like the films you watched as a kid that hold a special place in your heart. It's actually more like a kid film that's for adults. There is nothing scary about The Substitute, that isn't the point of the film. It's simply just a fun and enjoyable horror movie! Nothing more. And just for a heads up...you should watch this movies in subtitles. Being that the language is in Danish, the movie is dubbed in English. Watching this one dubbed makes everything seem way too cheesy, which in fact this is not a cheesy movie. If you watch The Substitute with subtitles you'll enjoy it more. It won't come off that corny.
jd cryptic
Super Reviewer
A wonderfully made little Danish gem. A class of 6th graders discover that the new substitute is an alien. Of course, the parents don't believe them and the teacher is an expert at manipulation. It puts aside the usual, alien conquers the world story and goes for one of an alien trying to understand love and empathy. It's actually a way of saving her own species, rather than dooming ours, though she doesn't go about it in the best way. It looks good, but also plays it a bit too serious.
Luke Baldock
Super Reviewer
The Substitute Quotes
There are no approved quotes yet for this movie.