The Sweeney
(2013)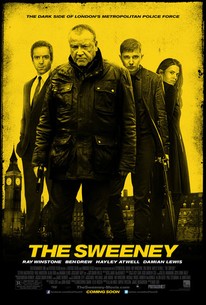 Movie Info
Tearing up the streets of London, THE SWEENEY is a stylish, exhilarating action thriller proving sometimes you have to act like a criminal to catch a criminal. Armed and dangerous, the Sweeney Flying Squad are old school crime fighters enforcing the law. Led by legendary detective Jack Regan (Ray Winstone) and his loyal partner, they have their own unique way of operating and always get results. With a bank heist in progress and his old enemy making a reappearance on the London crime scene, Regan will do whatever it takes to get the job done, even defying orders from his no-nonsense boss (Damian Lewis). (c) eOne
News & Interviews for The Sweeney
Critic Reviews for The Sweeney
Audience Reviews for The Sweeney
½
An ok English crime action film based on the old TV series. It looked very good from the trailer, but unfortunately that is quite misleading in the terms of the film as a whole. There are some good chase scenes and action set pieces, although not quite up to Heat (Which one scene is very similar to) but it does have the iconic London landmarks in there. Overall not bad but a bit more action would have been great.
An awesome and wickedly entertaining film. I loved this movie. An extremely tough, stylish, exhilarating and utterly brilliant action-thriller. One of the most gripping and intense British cop movies made in years. An explosive, cool and hard-boiled action flick that's right on the money and hits the jackpot. A powerful and enthralling film. Director, Nick Love scores with dark humor, gritty action and strong characters in his fierce and compelling movie that just rocks. A razor-sharp and cool as hell adrenaline-rush that keeps you on the edge of your seat right till the very finish. It serves up some heavy and red-hot car chases, gun-battles and fight sequences as well as some strong character development that adds more than enough meat to the characters. A sizzling re-vamp of the classic series, urbanizing it for today's audiences and showing old-school with a mix of new blood works well. A must-see. A stellar all-star cast. Ray Winstone is electrifying. Ben Drew is explosive. Drew and Winstone have great chemistry, they work very well together and add the right amount of strength and humor to their compelling characters. Damian Lewis is terrific. Hayley Atwell is excellent. Steven Mackintosh is wonderful.
½
An armed response unit attached to the Metropolitan Police targets a gang of international armed robber whilst being investigated by Internal Affairs for their extreme methods. The 1970s TV show upon which this film was based was in fact an extremely gritty, no-nonsense cop show that attempted to show life on the crime riddled streets of London in a warts and all, believable way. Of course, anyone completely devoid of imagination will not be able to see past the flares, side burns, casual sexist and racist attitudes and hopelessly out dated motors that were the hallmark of the time in which it was made. One such individual is no doubt the script writer of the big screen version we see here. No cliche is left unturned as an absurdly stereotypical collection of coppers, grasses, lags and geezers do porridge, get on the blower and bellow "Leave it aht, you slaaaaag!!" at each other throughout a plot that is so devoid of imagination it beggars belief. Ray Winstone is capable of some great performances but saddled with a character and dialogue of an obnoxious East End thug he has nowhere to turn except soon-to-be-forgotten pop star Plan B whose performance akin to a mumbling, stoned hoodie renders every scene he appears in nigh on unwatchable. The production value is TV standard at best, the car chases about as exciting as a Top Gear road test and the big set piece that features a running shoot out through the more tourist-friendly parts of London is so obviously a cheap knock off of Heat that it serves only to remind you how second rate it is in comparison. If it's a witty pastiche of 70s cop shows you want, I'd watch BBC TV drama Life On Mars instead as The Sweeney is as cheap and nasty as it is low brow.