The Swimming Pool (La Piscine)
(1969)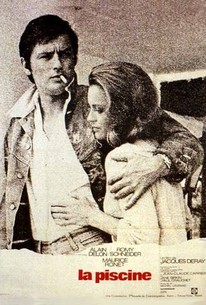 Movie Info
Jean-Paul (Alain Delon) is an out-of-work writer having an affair with Marianne (Romy Schneider), a successful journalist. As they frolic in a swimming pool in St. Tropez, she receives as call from the record executive Harry (Maurice Ronet). He arrives with his nubile young daughter (Jane Birkin). Harry and Marianne were once lovers and he makes a pass at her. Meanwhile, Jean-Paul makes a pass at Harry's daughter. After some drinking, Harry and Jean-Paul fight, resulting in Harry being pushed into the pool. Jean-Paul refuses to help the struggling man as he drowns, and the young couple tries to get their stories straight in order to avoid being charged with murder in this sometimes masochistic feature from France.
Critic Reviews for The Swimming Pool (La Piscine)
Audience Reviews for The Swimming Pool (La Piscine)
½
What this sensuous, provocative and elegant French film does so remarkably well is sustain a constant tension in the air between its characters, be it of a sexual nature or unspoken thoughts that are conveyed mostly through meaningful looks and glances.
Carlos Magalhães
Super Reviewer
Beautiful people in a beautiful setting tell a tale with lots of dark undertones in this French film from 1969. Shades of Lolita with a layer of rampant jealousy as a couple's idyll outside of St Tropez is interrupted by the arrival of a friend and his young daughter. Resentment builds as Harry (Maurice Ronet) and Jean-Paul (Alain Delon) vie for the attention of the Jean-Paul's girlfriend, Marianne (Romy Schneider) and the girl, Penelope (Jane Birkin), provides a distraction. The pot simmers quite nicely and makes a wonderful stew. I found this quite entertaining and not at all dated. It holds up well.
Mark Abell
Super Reviewer
yes, i knew alain delon was so impeccably beautiful in his youth, but there's just something in him that keeps me from being totally mesmerized by this enormously handsome man. actually, i think he's a fantastic combination of marlon brando and james dean, and he's far prettier than both of them together and he's elegant, subdued with those lovely eyes which no woman could emulate! BUT still, there's something in him, that prevents me from being the prey of his dubious charm. okay, let me put it in two words concisely: diabolical egoism...or even more plainly: selfishness. just judging from his performances in "the sinners", he's surely the only conpetent tom ripley in cinematic history, delon's character in it feels exactly like tom ripley in "the purple noon" which he would be making in years to come. the story is about a man who murders his visiting friend due to jealousy and contempt, and he sleeps with the friend's daughter to revenge him for attempting to seduce his girlfriend. then he methodically schemes to elope with the friend's daughter (after the funeral) after ruthlessly dumping his caring girlfriend. but after the girlfriend discovers the truth of the crime, he skillfully seduces the woman back to cover up the crime for him, acting pitifully sympathetic with his boyish melancholy. sounds so ripley..huh? the character makes me feel so eeriely selfish, so downright self-centered, and what makes him even more horrible is that he even has a self-justified sympathy-inviting way to lead you into patronizing his vices...he's the one who does all the bad things, but you end up on his side even you know it is wrong!....i'm usually the villain-sympathizer in most of the cases, but for this one, i say...stay away from the devil! perhaps my sympathy is more with people who make great efforts to disguise their frailties in an aggressive, un-apologetic manner so others would be more compelled to condemn them because they want no sympathy! (i admire such consistency, it's called "dignified evil" by me) but alain delon type of villain is like, he pulls off the crime with great composure and he doesn't hesitate to bare his weakness because he would apply all the available resources around to excuse himself from the condemnation and the possible penalty. (cowardly evil) anyway, "the sinners" is a great psychological drama for those take an interest in new wave french cinema. alain delon and romy schneider are surely very feasible to the eyes. even i must say, schneider is too good for delon, whose character here in this picture is surely a scumbag with the prettiest face which hypnotizes you into immorality. shall we just call him THE HOMME FATALE!
Veronique Kwak
Super Reviewer
The Swimming Pool (La Piscine) Quotes
There are no approved quotes yet for this movie.