The Switch
(2010)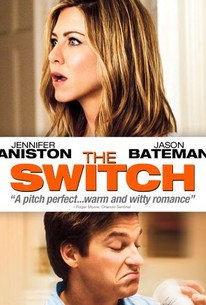 TOMATOMETER
AUDIENCE SCORE
Critic Consensus: The Switch has an interesting premise and a charming cast; unfortunately, it also has a trite script that hews too close to tired rom-com formulas.
Movie Info
"The Switch," is an offbeat comedy about Kassie, a smart, fun-loving single woman who, despite her slightly neurotic best friend Wally's objections, decides it's time to have a baby-even if it means doing it by herself- with a little help from a charming sperm donor. But, unbeknownst to her, Kassie's plans go awry because of a last-minute switch that isn't discovered until seven years later when Wally finally gets acquainted with Kassie's precocious-though slightly neurotic-son. From the people behind "Little Miss Sunshine" and "Juno" comes "The Switch," due in theaters this summer.
News & Interviews for The Switch
Critic Reviews for The Switch
Audience Reviews for The Switch
Jason Bateman delivers a surprising performance of wistful need. Wally's big reveal moment isn't some gooey gesture, buoyed by a sappy indie song or romantic precipitation. It's a completely inopportune moment that he wedges into the works. As David Henry Hwang said at the NYC AWP Conference in 2008: "Monologue is to burst." And Bateman certainly bursts. Of course, I am sorely disappointed with Aniston's reaction. She looks everywhere except at Bateman, and I, not having read Jeffrey Eugenides's short story, "Baster," don't know if Kassie's go-to angry reaction is in the original or just stuck in for the typical crisis-near-the-end-of-movie-that-will-be-resolved-in-two-minutes effect. I kept wanting to rewrite the whole scene. Give Kassie a real moment, perhaps saying she knew, somewhere in the back of her mind, she knew. I mean, how could she not? The kid moans when he eats. The rom-com marketing and easygoing, devoid-of-personality female lead take away some of the charm and pathos of Wally's connection with the mini-him of sorts. Thomas Robinson is definitely the most adorable child-depressive ever. The scene in which Sebastian describes his picture-perfect paternal family and Wally reveals his own baggage is absolutely heartbreaking.
Alice Shen
Super Reviewer
½
Wally Mars: I - - um, hijacked your pregnancy. "The most unexpected comedy ever conceived." The Switch is a pretty dull, unfunny, and overall difficult movie to watch. The only thing that keeps the movie flowing and kept me from turning it off was Jason Bateman, who was actually pretty good, and a great little performance from the kid. Other than that, the story is so-so, the dialogue so-so, and nothing really interesting happens to support the initial premise. The premise is one that could work, but it just didn't. Wally and Kassie are best friends and have been for quite some time. Kassie begins feeling like she's over the hill and wants to have a child while she still can. So in this haste she decides to try to find a sperm donor, so she can have the child she wants and needs right now. When she throws a party on the night where it will all take place, Wally stumbles into the bathroom drunk after the donor did the deed into a cup. Wally spills the cup and decides to replace it with his own. He completely forgets about this until Kassie and her son return to New York after years of being away.  Not that I expected much from this, but it was still a big disappointment. We know from the beginning where the story is going to go, we know how it will end, and we know the ups and downs the characters will take. So why watch it? I don't know why I did, but I'm just warning you so you don't make the same mistake I did.
Melvin White
Super Reviewer
It's predictable awkward situation drama. But I can still enjoy it.
UUd Irawan Yudha Ariyanto
Super Reviewer
The Switch Quotes
| | |
| --- | --- |
| Wally: | Look at us, running around. Always rushed, always late. I guess that's why they call it the human race. What we crave most in this world is connection. For some people it happens at first site. It's when you know you know. It's fate working its magic. And that's great for them. They get to live in a pop song. Ride the express train. But that's not the way it really works. For the rest of us, it's a bit less romantic. It's complicated, it's messy. It's about horrible timing, and fumbled opportunities. And not being able to say what you need to say when you need to say it. At least, that's the way it was for me. |
| | |
| --- | --- |
| Sebastian: | Do you ever scared you could have Parkinson's disease? |
| Wally: | Not specifically Parkinson's disease but, I am not going to lie I have had my doubts of hypochondriac. |
| Wally: | Not specifically Parkinson's disease but, I am not going to lie I have had my doubts of hypochondriac. |
| Sebastian: | What's that? |
| Sebastian: | What's that? |
| Wally: | That's thinking you have diseases that you don't really have. |
| Wally: | That's thinking you have diseases that you don't really have. |
| Sebastian: | OMG I have that. |