The Tattooed Stranger
(1950)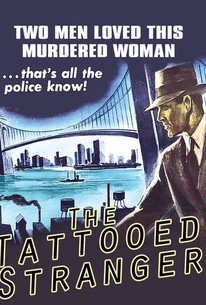 AUDIENCE SCORE
Critic Consensus: No consensus yet.
The Tattooed Stranger Photos
Movie Info
A man walking his dog in New York's Central Park finds a young woman dead in a car, killed with a shotgun. Veteran Lt. Corrigan (Walter Kinsella) is assigned the case along with Detective Tobin (John Miles), a "college boy" in Corrigan's eyes, newly promoted out of the crime lab. The police can't even figure out who the woman was; her fingerprints aren't on file anywhere, she fits no missing persons description, and the only identifying mark of any significance is a small anchor-and-globe tattoo -- and it is obliterated by an alcoholic derelict who was apparently hired to enter the morgue to do the job and is killed for his trouble (but not before the coroner got a photograph of it). Corrigan and Tobin find the artist who did the tattoo, but that only raises more questions -- especially after he's bludgeoned to death. As Corrigan says, looking over the dead woman's mail, "She wasn't a girl, she was a roll call" -- the victim was a waitress and a professional grifter, specializing in marrying merchant sailors, marines, and anyone else in high-risk jobs during the war, and collecting their allotment checks and their insurance when they died. It seems like someone wanted her dead, but every man she was married to is either dead or accounted for at sea. Working closely with a botanist (Patricia White), Tobin spends his time tracking down one clue, a single blade of a species of grass found in some rare patches in the Bronx; that clue, coupled with unusual properties in the grains of sand found near the murder scene, lead the detective to within a few feet of the killer, who is equally dogged about covering his trail and killing anyone who gets in his way.
Critic Reviews for The Tattooed Stranger
Audience Reviews
There are no featured reviews for The Tattooed Stranger at this time.
The Tattooed Stranger Quotes
There are no approved quotes yet for this movie.