The Terror (The Haunting) (The Castle of Terror)
(1963)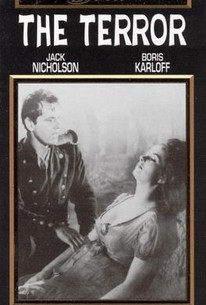 The Terror (The Haunting) (The Castle of Terror) Photos
Movie Info
In this horror chiller, an intriguing, beautiful woman (Sandra Knight) keeps re-appearing to early 19th-century Lt. Duvalier (Jack Nicholson), and he is led to a castle where he finds an imposter of Baron Von Leppe (Boris Karloff). He becomes trapped in the ancient castle and tries to make sense of the eerie situation. Director Roger Corman (with the help of a few other directors, including Francis Ford Coppola) shot most of this within a few days after finishing The Raven--utilizing the same set.
Critic Reviews for The Terror (The Haunting) (The Castle of Terror)
Audience Reviews for The Terror (The Haunting) (The Castle of Terror)
½
It didn't give me "The Terror", but this still managed to be a pretty enjoyable Poe-esque chiller. It is interesting seeing young Jack Nicholson in the lead role before he became a huge star. The film that was essentially made around 3 days worth of footage of legendary horror icon Boris Karloff. Roger Corman filmed the Boris Karloff-footage and passed on the film to young directors like Francis Ford Coppola and even Jack Nicholson directed a few scenes. For a film that was passed down to many filmmakers, the story is surprisingly coherent. The film manages to conjure up a fun chilling atmosphere with it's foggy grave sites, dark corridors, and gritty film quality. Boris Karloff is awesome and Jack Nicholson does a good job carrying the film but his acting is not as mind-blowing as his future films. This movie is public domain so you can easily watch this movie on youtube. Go ahead and check it out.
Christopher Heim
Super Reviewer
I love seeing Boris Karloff, Jack Nicholson, and Dick Miller all in the same movie together, but the material just isn't all that great. It's the typical haunted house mystery...not even the actors have anything really that good to work with. I just love having this group of people assembled and for me that makes me like it, not because it's that good of a movie.
Tim Salmons
Super Reviewer
I really like this movie, it has some great stars, and the story is really cool. This is a spooky horror movie, and I enjoyed it.
The Terror (The Haunting) (The Castle of Terror) Quotes
There are no approved quotes yet for this movie.