The Texas Chainsaw Massacre: The Beginning
(2006)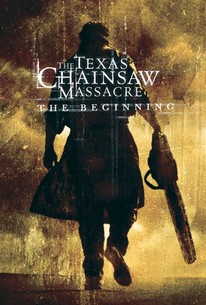 TOMATOMETER
AUDIENCE SCORE
Critic Consensus: The Texas Chainsaw Massacre: The Beginning is full of blood and gore, but not enough scares or a coherent story to make for a successful horror film.
The Texas Chainsaw Massacre: The Beginning Photos
Movie Info
It's 1969. The conflict in Viet Nam has exploded to immeasurable proportions, and 18-year-old Dean Hills number is up. Dean's brother Eric, who has already seen his share of combat, plans to take Dean to enlist in his beloved Marine Corps in hopes of keeping an eye on him rather than letting him take his chances at the local induction center. But Dean's plans do not coincide with his older brothers. Instead, he plans to confront Eric about dodging the draft after the boys and their respective girlfriends, Bailey and Chrissie, head across Texas for a final fling of serious fun. Soon after their journey begins, the spirited foursome is spooked by a menacing pair of bikers, Holden and his girlfriend, Alex. When Alex chases the group's jeep, propelling them into a serious accident, Chrissie is thrown from the vehicle. As Alex attempts to rob the injured trio, Sheriff Hoyt arrives on the scene and turns the tables on their would-be assassin. While Chrissie hides in the nearby brush, she watches as the sheriff kills Alex in cold blood and then inexplicably taunts her friends before ordering them into the back of the patrol car. Unbeknownst to Chrissie, Hoyt is headed back to the Hewitt family home where Thomas who is being groomed to become the terrifying monster known as Leatherface and the rest of the Hewitt clan await.
News & Interviews for The Texas Chainsaw Massacre: The Beginning
Critic Reviews for The Texas Chainsaw Massacre: The Beginning
Audience Reviews for The Texas Chainsaw Massacre: The Beginning
Witness The Birth Of Fear. The movie is very good...if you're into this kind of thing. It's nice to see a franchise splatter film that is intense and gory without being cheesy. Many of the current crop of splatter films are played intentionally cheesy for humor. Which is fine, but they shouldn't all be like that. This movie has some humor in it, but it's a darker humor, and not meant to be cheesy or campy. In August, 1939, a worker goes into labor while working in a slaughterhouse and dies after a complicated labor, though the deformed child survives. The possibly orphaned baby is dumped in a garbage container and found by a beggar later, who brings him home. Along the years, the mentally retarded and disturbed boy called Thomas is raised by the Hewitt family in spite of having psychological problems as well as suffering from an unnamed skin disorder, later working in a meat packing plant. In July, 1969, when the facility is closed, the inhabitants move to other places, but the deformed, mentally childlike Thomas flies into a rage after being insulted and kills the foreman. His deranged brother (considered his uncle due to their age difference) executes the sheriff that is going to arrest Thomas, and assumes his identity, wearing his clothes,driving his car though the roads in Texas and entitling himself as Sheriff Hoyt. Meanwhile, the brothers Eric and Dean are traveling in a Jeep with their girlfriends Christie and Bailey, Eric to serve in Vietnam and Dean escaping to Mexico. When the group has a car accident, Hoyt arrests Eric, Dean and Bailey and brings them to his house. Christie follows them trying to rescue the trio, trapped in the house of sadistic and insane cannibals, in a trip of horror and gore.
Prequel to the Texas Chainsaw Massacre remake is a bland affair that even with the fact that it introduces an interesting back-story; it still fails in terms of quality horror films. The series took a more torture porn esque kind of turn with the original remake and with this entry as well, there is way more gore instead of pulse pounding terror. The prequel, like the remake relies on style versus substance and the result is a disappointing film that leaves horror fans wanting more out of a TCM movie. Acting wise, this film suffers from as poor cast that are pretty forgettable and there's nothing worthwhile here to really enjoy. Younger horror fans may enjoy it, but to those who love a well constructed horror film, they will be disappointed in the result of The Texas Chainsaw Massacre: The Beginning. Remakes and subsequent sequels tend to cheapen a horror fans experience by relying more on computerized special effects than on hand made effects of old school horror features. This might have worked, but unfortunately the film's script leaves a lot to be desired and I found it to be underdeveloped. Although it had an interesting idea, this film ultimately left a lot to be desired. In terms of effective terror, this is one that just doesn't have anything to offer to TCM fans. The film is poorly directed with an interesting, but lacking story, thus it just ends falling apart towards the end. If you've never seen this film or the original remake, you're definitely not missing much. Stick with the original trilogy; at least they were well done, and very entertaining. This film simply tries too hard, and in turn, it fails.
[img]http://images.rottentomatoes.com/images/user/icons/icon13.gif[/img] I'll start by saying this is not a film in any meaning of the word it's just a studio milking one of the easiest cow's to milk for cash in the history of horror cinema. So here's the making of: A bunch of bank managers got together and stripped a classic horror film a.k.a "The Texas Chainsaw Massacre" (almost) entirely of it's pride. They then decided after stealing 51 million dollars with a remake that they wanted more. So they then took a classic movie with an inspired story and made a pointless prequel with a storyline probably made up on the spot. This so called storyline was the back story of one of the most iconic and terrifying horror characters in history and destroyed his reputation by explaining why he is, the way that he is, and why he brutally murders people with a chainsaw. Is that in any way scary? Hell no.
Directors Cat
Super Reviewer
The Texas Chainsaw Massacre: The Beginning Quotes
| | |
| --- | --- |
| Sheriff Hoyt: | A man's home is his fuckin' castle! |
| | |
| --- | --- |
| Sheriff Hoyt: | I started to think you like wasting my time blonde. Hurry up! (While Dean puts dead biker lady in front seat). |
| Sheriff Hoyt: | I started to think you like wasting my time blonde. Hurry up! [while Dean puts dead biker lady in front seat] |
| | |
| --- | --- |
| Eric Hill: | How many? |
| Chrissie: | Three. All boys |
| Eric Hill: | What are their names? |
| | |
| --- | --- |
| Sheriff Hoyt: | People may not remember what we say here tonight, but by God they'll remember what we did. |