The Thin Man Goes Home
(1945)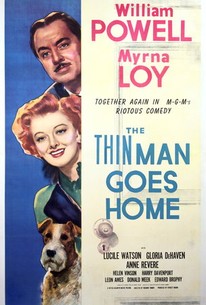 The Thin Man Goes Home Photos
Movie Info
This fifth entry in MGM's off-and-on "Thin Man" series maintains the high production and story values of the first four. Per the title, retired private detective Nick Charles (William Powell) pays a visit to his home town of Sycamore Springs, with wife Nora (Myrna Loy) in tow. Poor Nick is amusingly browbeaten by his parents (Harry Davenport and Lucile Watson), who wanted their boy to study medicine, is frustrated by the fact that there isn't a good stiff drink to be had in town, and is hilariously defeated by a recalcitrant hammock. In a more serious vein, Nick and Nora become involved in international intrigue while investigating the murder of a local house painter. If the identity of the murderer seems obvious today, it is only because the actor in question has played so many "surprise killers" in other films of this genre. A refreshing change of pace for the usually urbanized "Thin Man" series, The Thin Man Goes Home features such colorful suspects as Gloria DeHaven, Edward Brophy, Lloyd Corrigan, Leon Ames, and, best of all, Ann Revere as a local eccentric named "Crazy Mary".
Critic Reviews for The Thin Man Goes Home
Audience Reviews for The Thin Man Goes Home
Another good, fun, and humorous sequel to the Thin Man.
½
The Thin Man Goes Home is the fifth Thin Man film and it's evident the series is running out of steam. There's a whole lot more slapstick and puppy comedy involving the dog, but the "mystery" involving a mysterious painting and of course, a couple of murders is just sort of background side story. I know the Thin Man series relies on the humor and chemistry generated by Loy and Powell, but there also have to be situations that are humorous too. Here, the situations are straining to be funny, but don't quite live up to the previous films. Some of the things the super-sleuth uncovers seem far-fetched, even for a Thin Man movie. Possibly the weakest of the Thin Man movies.
Devon Bott
Super Reviewer
½
Sort of the Thin Man series meets the Andy Hardy series. Good studio fun. "Nick, you have to do something... and that's not it!"
Bob Stinson
Super Reviewer
The Thin Man Goes Home Quotes
There are no approved quotes yet for this movie.