The Thirteenth Chair
(1929)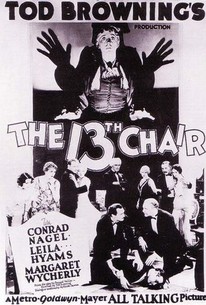 AUDIENCE SCORE
Critic Consensus: No consensus yet.
The Thirteenth Chair Photos
Movie Info
In this mystery, the second film version of a popular Broadway play, an amiable but phony medium takes a runaway under her wing. The poor lad is being charged with murder, but he is innocent. To prove it, the psychic stages a seance. She succeeds and happiness ensues.
Critic Reviews for The Thirteenth Chair
Audience Reviews for The Thirteenth Chair
Quite surprisingly, an awful film. I've liked a lot of director Tod Browning's films, both before and after this effort (He Who Gets Slapped (1924), The Unknown (1927), Where East is East (1929), Freaks (1932), and The Devil-Doll (1936)), but this one is uncharacteristically dry as toast. One common factor from another film of his that I didn't care for as much as others (Dracula (1931)) is Bela Lugosi, who I find wooden and awkward, but he doesn't account for all of the film's problems. Everyone is wooden and awkward. It's is a shame, because also in the cast is Margaret Wycherly, who was so great in White Heat twenty years later, and Leila Hyams, a lesser-known actor who I've liked seeing in supporting roles in other films from this era. The sins of the film are many. The direction and editing is so poor it's hard to fathom from Browning, though I read later that some of his issues stemmed not only from sound being a new and limiting technology, but that sound director Douglas Shearer (brother of Norma) was part of the problem. I'm not sure if that's true or false, but regardless, the end product is awful, visually and sound-wise. It doesn't help that the quality of the surviving print has degraded, often making it hard to understand the dialogue. I can't recall a single scene or moment that I thought was truly good; almost all of the action takes place in a single room, and it's worse than stagey. There is never a 'wow' or macabre moment, or even an interesting turn of the plot. What could have been an interesting story along the line of an Agatha Christie mystery, with all of the potential culprits in the room with the detective sifting through the facts, becomes an exercise in tedium, moving at a snail's pace. I advise avoiding this one like the plague.
Antonius Block
Super Reviewer
The Thirteenth Chair Quotes
There are no approved quotes yet for this movie.