Three Godfathers
(1948)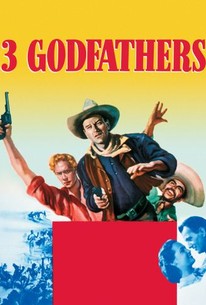 Movie Info
This film is John Ford's second version of Peter B. Kyne's western about three outlaws who adopt and care for a baby they find in the desert. The three outlaws are on the run from the law, yet they risk their lives to bring the baby to the nearest town.
Critic Reviews for Three Godfathers
Audience Reviews for Three Godfathers
½
yeah it's a little corny but it's one of ford's most beautifully shot and that's saying something
Stella Dallas
Super Reviewer
Number 3 in the quest of 30 by Christmas. This one talks about Christmas but doesn't have a overall theme of Christmas till its end. The Duke John Wayne plays a bad guy in this film, something that was rare, after robbing a bank The Duke and his partners go across the desert to avoid the law, when they happen upon a women having a baby, before she dies she makes them the boys godfathers and promise to keep her baby alive, so sets the theme for this Mild Western. Found it on a list of Christmas movies, have never seen it on TV, again has a Christian theme and gospel singing, a rarity on TV these days. Today's Hollywood is based on the more smut the better even this time of the year. Its worth your time and 4 stars
Bruce Bruce
Super Reviewer
This is just a great movie that's both fun and well made. It must be the first John Wayne/John Ford movie in color and it's truly beautiful to look at. While it's a premise that certainly could have become corny, it doesn't and manages to have a great message. The chemistry between the three bank robbers is one of the many qualities it has, friendship is such a powerful theme in this. While it draws parallels with the three wisemen, it definitely doesn't steal and is extremely original and fresh.
Conner Rainwater
Super Reviewer
Three Godfathers Quotes
There are no approved quotes yet for this movie.