The Times of Harvey Milk
(1984)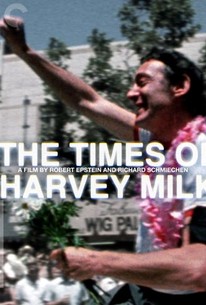 TOMATOMETER
AUDIENCE SCORE
Critic Consensus: True to its title, The Times of Harvey Milk looks back on the life of the titular politician and activist -- and the era he helped define with his trailblazing career.
The Times of Harvey Milk Photos
Movie Info
Harvey Milk, the first openly gay elected official in United States history, had been serving on San Francisco's Board of Supervisors only 11 months when he, along with Mayor George Moscone, was assassinated in 1978 by Dan White, a fellow supervisor disillusioned with the constant compromise of city politics and an opponent on gay-rights issues. Harvey Milk interweaves newsreel footage and personal interviews to construct a compelling portrait of these turbulent times: Milk's rise to prominence in the Castro; Moscone's emphasis on neighborhoods and the subsequent redistricting that allowed Milk to be elected; his successful fight against Senator John Briggs's inflammatory Proposition 6; the assassination; White's trial; and its violent aftermath. The most moving images depict the massive but reverential candlelight march that followed the shootings, a sharp contrast to the riots after White's infamous Twinkies-defense trial.
Cast
Critic Reviews for The Times of Harvey Milk
Audience Reviews for The Times of Harvey Milk
The Times of Harvey Milk is a flawless documentary about on e of the most iconic civil rights activists of the 20th century. Harvey Milk fought for Gay rights in the mid to late 70's. This is a brilliant picture that documents his stunning achievement. He inspired something greater than himself. This is an in depth documentary about Milk's legacy and how he stood up for gay rights. Not only did he stand up for Gay Rights, but he also gave hope to many minorities. Featuring interviews and archive footage, The Times of Harvey Milk is a necessary viewing due to its historical value in the fight for rights and equality, not just for Gay and Lesbians for but for everyone. This is an inspiring film that is quite sad as well due to the fact that Harvey Milk died senselessly at the hands of Dan White. The film shows Harvey's determination and courage to fight for something close to his heart, and this is a flawless film that can stir up all kinds of good emotion. I respect Harvey Milk because he put himself above and risked everythi8ng to do what he felt was right. If you love great documentaries, then give this one a chance. You will surely enjoy it, like I did. This is a brilliant interviews and stories about Milk's achievements. I've seen plenty of documentaries, and this is among the finest and most important films that I have seen in a long time. The Times of Harvey Milk is simply a brilliant piece of cinema. This is hard at times to watch, but very rewarding in the end. This is a film that will definitely stay with you.
½
Having seen Milk before watching this; the first film to win Best Documentary at the Academy Awards, I was already ingratiated to the image and personality of the first openly gay politician in American history. Penn paints a picture of a working Joe, staunchly oppressed by the political standards towards sexuality in his early days as a Wall Street broker, his relationships and personal life on display as a way to show his human side to a general audience. This documentary focuses on Milk's aspirations as a leader and less on his life outside of that world. The documentary also doesn't quite showcase the role of Anita Bryant in Prop 6, instead showing a lot of archived footage from newscasts and interviews with Briggs. We're given a small view of Milk, painting him as a responsible and justified politician, and not this multi-sided, intensely savage and yet peacemaker icon, his death more of a sacrilege than an assassination. The brutality of his death and the imagery of the candlelit march resonant better than a filmed sequence of events like in Milk. This is a tale of human rights being exemplified in the Castro district of San Francisco. This is about hatred, chaos, revenge, anarchy, the final resolution between the different peoples of the large scale cityscape, and the fact that discrimination reaches between race, sexual orientation, the disabled, and elderly, and it's all fear turned in on itself. Scary to watch, especially towards the end, if you're not crying or welled with emotion, there is something missing from your movie watching experience.
Spencer S.
Super Reviewer
½
http://content9.flixster.com/movie/10/87/44/10874435_tmb.jpg
_kelly .King
Super Reviewer
The Times of Harvey Milk Quotes
There are no approved quotes yet for this movie.