The To Do List
(2013)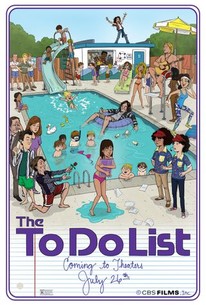 TOMATOMETER
AUDIENCE SCORE
Critic Consensus: The To Do List may play things disappointingly safe given its rather daring premise, but writer-director Maggie Carey's sure hand -- and Aubrey Plaza's performance -- keep the laughs coming.
Movie Info
Featuring an all-star comedy cast including Aubrey Plaza, Johnny Simmons, Bill Hader,Alia Shawkat, Sarah Steele, Rachel Bilson, Christopher Mintz-Plasse, DonaldGlover, Scott Porter, Andy Samberg, Connie Britton and Clark Gregg, "The To Do List" is a comedy about close friends and a special summer project, loosely inspired by the real-life adventures of first-time writer/director Maggie Carey. Set in 1993, valedictorian Brandy Klark wants to shed her uptight image before college, so she assembles a to do list of all the "activities" she missed out on in high school. Quickly realizing that she's way out of her depth, Brandy solicits her best friends, older sister and burnt-out boss for their help and advice. If the group is going to complete the list by September they'll need plenty of imagination and very open minds. (c) CBS Films
News & Interviews for The To Do List
Critic Reviews for The To Do List
Audience Reviews for The To Do List
Coming of age sexual odysseys have been seen before, but never so female friendly and reliant on the gross-out factor. There's something so realistic and funny about the exploits of youth, and becoming a woman on top of that, lends to adolescent humor that we've never seen before. Director and writer Maggie Carey really knows how to make films for women and uses both realism and perversity to make a genuinely funny film about what it's like for a teenaged girl when she starts realizing her own sexual ambition. It's really sweet on top of being gross out funny, and that just doesn't get seen enough with a female in the lead. It went a little off-color at times, and got a little too familiar with her parents, but that just lent to its charm and dry humor.
Spencer S.
Super Reviewer
*** Basically the "To Do List" is a female version of "American Pie". It's about a girl(Aubrey Plaza) who graduates as the top of her class and realizes she has no sexual experience. So she decides to make a To-Do List(includes handjobs, blowjobs, etc.) to accomplish before she goes to college in the fall. I gotta say I didn't expect much from this, but this is very funny. I laughed a lot, and my wife actually stayed awake through the entire thing, which rarely happens. The cast is made up of mostly B and C level actors who do a decent enough job. Plaza does ok, but I think this role could have been handled better. She's not bad, just not great either. The Andy Samberg and Bill Hadar have small roles and both are fantastic. I wish Sandberg had a bigger(and different) role, but he is still awesome. The humor is very sophomoric and sexual(it's rated R), so if that's not your thing then you should skip. But, if you want a good lighthearted, sex comedy, then this is definitely worth checking out!
Everett Johnson
Super Reviewer
½
I haven't laughed this hard in a while. Aside from it's odd editing choices and weird sounding audio, "The To Do List" is a blast to watch, albeit somewhat disturbing. As we follow Brandy (Aubrey Plaza) journeying through the stages of sex, she learns life lessons, even though the people should be more caring than they are displayed here. Clark Gregg is amazing as the father and they could not have made a better casting choice. I found myself laughing through every scene, not only at the gross-out gags, but at the genuine dialogue-driven gags as well. This is a very well-written comedy, the actors all seem to be having fun, and the director handles the material really well. The film takes a few too many risky turns, and some choppy editing can become distracting, but overall, it's one of the best comedies of 2013!