The Touch
(1971)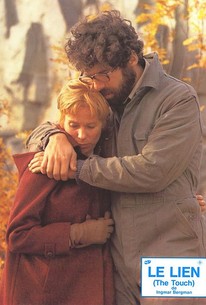 Movie Info
This was famed Swedish director Ingmar Bergman's first English-language film, the story of a contented young wife and mother whose marriage is disrupted by an inexplicable attraction. Bergman regular Bibi Andersson plays Karin Vergerus, who is married to a prominent but stodgy surgeon, Andreas (Max Von Sydow, another of Bergman's regular troupe). They live in a small town, and their marriage is peaceful but unexciting. Enter an itinerant American Jewish archaeologist, David Kovac (Elliott Gould, in his first and last Bergman film). David's freedom to travel and live life fully is intoxicating to Karin, who yearns for adventure. But Karin still loves her husband and her family, and she ends up feeling torn between conflicting desires. Compared to earlier Bergman films which were packed with symbolism and psychological imagery, The Touch is a very straightforward and uncomplicated story. The score features music by Jan Johansson, who died in 1968.
Critic Reviews for The Touch
Audience Reviews for The Touch
½
Director Ingmar Bergman made only two English-language films, "The Touch" (1971) and "The Serpent's Eye" (1977). Neither are well-regarded, and this doesn't seem coincidental. The dialogue in "The Touch" is uncomfortably stiff, and even the otherwise garrulous Elliott Gould sounds awkward delivering it. And his character is a mess. He's ridiculously brutal and tempestuous in some scenes, and unnaturally restrained in the rest. Essentially a three-character film, "The Touch" follows an affair between Gould and beautiful Bibi Andersson, while her academic husband (Max Von Sydow) seems too wrapped up in work to notice. Andersson doesn't seem compatible with either man, and there's little reason to root for either pairing to win out. Even the cinematography and score aren't up to Bergman's usual standards. Bedroom scenes bring good news and bad news: Andersson's perfect breasts and Gould's furry back.
Eric Broome
Super Reviewer
½
It's the story of a married woman falling in love with another man. The married couple - Max von Sydow and Bibi Andersson - does live in fine rapport, their personalities matching well. Both are quiet, contemplative, and very rational persons, not liable to act spontaneous. The intruder - Elliott Gould - on the idyll which they embody together with their teenaged daughter is in contrast an impetuous man, uncompromising, overbearing, and tormented by inner contradictions and compulsions. Andersson tells him at one point that he hates himself. The two clandestine lovers aren't appropriate for each other. They have difficulties to accept the other's social behaviour and stance and don't like it to lie to their environments. But soon they cannot live without each other anymore. The point of the film cannot be to show how two contrary characters complement each other, as Andersson was even more happy with von Sydow before and because it's all told in such a detached manner. The portrait of a love would like to involve the spectators to convey the joy and pain of it. Instead the question why Andersson turns away from von Sydow toward Gould seems intentionally perplexing. The dialogues and acting of the lovers is cerebral and cold, as if they were reciting dazedly on a stage, astounding themselves with their actions and feelings. As if they were actuating on an impulse isolate from their personalities. This impulse or drive is not eros, as especially at the beginning of their affaire sex is more a problem than a fulfilment to these two diffident lovers. Maybe love or the need to feel and give love is itself such a drive, an autonomous thing asserting itself regardless of the circumstances and the characters involved. The central metaphor of the film is a medieval wooden statue of Mary, recently excavated after being buried for centuries - like Gould's and Andersson's potential to be lovers or man and woman. But with the disinterment of the Mary there also come alive insect larvae inside her, corroding her from within. Before they meet Gould attempted suicide and Andersson was reduced to a wife. They flower in their new love and it destroys their lives. Civilization means in many ways the domestication of our impulses. Therefore Andersson realizes that she must not harm lastingly her family and Gould's hidden wife/sister. This is true. But Gould is telling her that she is lying to herself by not eloping with him and he's right, too.
Cassandra Maples
Super Reviewer
The Touch Quotes
There are no approved quotes yet for this movie.