The Toxic Avenger: Part II
(1989)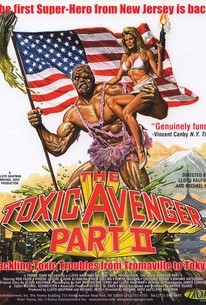 The Toxic Avenger: Part II Photos
Movie Info
A multinational corporation tricks the Toxic Avenger into traveling to Japan, leaving his hometown vulnerable to toxic-waste dumping. When he discovers the truth, New Jersey's mutant superhero vows revenge on the evil businessman in this sequel to the cult horror-comedy.
Critic Reviews for The Toxic Avenger: Part II
All Critics (7) | Fresh (0) | Rotten (7) | DVD (1)
The first Toxie was dumb fun, but it should never have been made a "franchise."
June 11, 2003 | Rating: 2/5
Lacks the energy of its predecessor, but there's enough campy cheeze to entertain the schlock fans.
October 21, 2002 | Rating: 2.5/5
Audience Reviews for The Toxic Avenger: Part II
It's trashy, cheap garbage and Troma wouldn't have it any other way.
Marcus Woolcott
Super Reviewer
This sequel is more on the comedic side than the first one was, almost like a spoof of a sequel to the first. I found it really funny sometimes, and at other times hard to endure.
The Toxic Avenger is a hilarious, fun, gory and exciting picture that really has it all. I didn't hear a lot of good things about the second tale of Toxie which was really bad to hear. Most of this negative attitude was centered around the "unrated" DVD that was actually heavily edited. Luckily the one I got was the true Director's Cut that ran around 106 minutes. This one had pretty much everything the first one had but the main thing that annoyed me was the change of actors. It just wasn't the same, the actors from the first weren't good but they brought a charm to the characters. The plot in this one is crazier than that of the first. This time The Toxic Avenger is lured into Tokyo, Japan by Apocalypse Inc. While he is fighting crime in Tokyo Apocalypse Inc. is reeking havoc in Tromaville. As usual, it's up to Toxie to save the day. The "unrated" version, as talked about before, apparently omits all the gore. And boy, there's a lot of it. We see plenty of great, gory stuff like intestines getting blown out of a guy's stomach from severe wheelchair trauma, roses being shoved into a man's eyes, someone getting chopped into sushi and much, much more. And the effects are actually really good. Please, don't go into this seriously, take your brain out and watch it. It's a lot of fun and it should please Troma fans and gorehounds alike!
Cassandra Maples
Super Reviewer
The Toxic Avenger: Part II Quotes
There are no approved quotes yet for this movie.