The Tracker
(2003)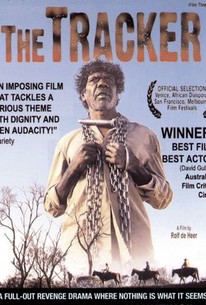 Movie Info
Experimental director Rolf DeHeer's film The Tracker depicts a controversial moment in the Australian justice system, in doing so taking on a popular topic among Australian filmmakers--the complicated and too often racist relationship between Aboriginals and locals. When an Aboriginal tracker (David Gulpilil) leads the manhunt for a fugitive native, a series of atrocities are performed on the ancient tribe by a sadistic policeman participating in the search party. The line between savage and civilian is blurred beyond recognition when Fanatic (Gary Sweet), the policeman, massacres a large group of peaceful Aboriginals. It eventually becomes clear that the tracker, who purposely keeps the Aboriginal a half-day ahead of the search party, is in control of the operation and has his own mysterious agenda. DeHeer takes a unique approach in the direction of this film; opting to show graphic paintings by artist Peter Coad during violent moments in lieu of filming bloody scenes among the actors. The drama itself is often contradicted by haunting, plaintive songs with lyrics written by DeHeer himself.
Critic Reviews for The Tracker
Audience Reviews for The Tracker
Tracker is a haunting, and engrossing film that showcases the beautiful talent of David Gulpilil in the title role, and uses music to help tell the story, but it may prove to be overused by some.
Raymond Wieser
Super Reviewer
½
Simple story, good cinematography, let down by an overuse of music.
Robert Fearon
Super Reviewer