The Trail of '98
(1928)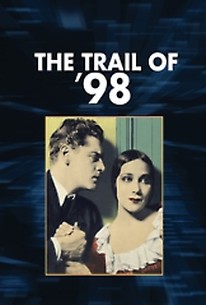 AUDIENCE SCORE
Critic Consensus: No consensus yet.
Movie Info
This innovative, epic account of the Alaskan gold rush follows the lives of many prospectors throughout the movie. One story receives extra attention: a gold miner who finally strikes it rich, suffers terribly to return to his true love, and discovers that she has become a tawdry dance-hall girl.
Critic Reviews for The Trail of '98
All Critics (1) | Fresh (0) | Rotten (1)
It is in the story, and in the characterizations that emerge from the story, that The Trail of '98 is woefully insufficient. This may not be Mr. Brown's fault, but it is certainly his responsibility.
Audience Reviews for The Trail of '98
½
This silent movie from 1928 is an epic drama centered on the real-life Klondike gold rush of 1897-98, with portions of it real (e.g. the treacherous ascent up the Chilkoot Pass), and others making up the story of the fictional characters. Among the prospectors are a couple who meet and fall in love, played by Dolores del Rio and Ralph Forbes. Their chief nemesis is a schemer played by Harry Carey, who always seems a step ahead of everyone else. There are several other prospectors who provide humor (usually quite dated) as well as the pathos of their situation, enduring one hardship after another. The movie is drawn out and styled as an epic, 'big' film. I found it somewhat tedious in big patches of the first half, but it grew on me. Director Clarence Brown ('A Free Soul' and 'National Velvet' among four other Oscar nominations) includes some decent special effects in scenes such as an avalanche and a man being lit on fire, and heightens emotional tension with slow zooms into the actors' faces. In a scene that made me smile, Carey sits down to a steak dinner and has plates of beans brought in around it, so that he can eat a 'real meal' in front of them, having lived on beans for six months. Despite the cuteness and simple dialog in the film, there are moments of real grit, including betrayal, an implied rape, and scenes on the rapids which actually killed four stuntmen. There are parts which definitely stand up close to 90 years later, and it's worth sticking with.
Antonius Block
Super Reviewer
The Trail of '98 Quotes
There are no approved quotes yet for this movie.