The Tree
(2011)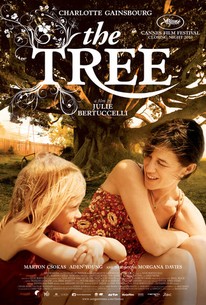 TOMATOMETER
AUDIENCE SCORE
Critic Consensus: Though it leans rather heavily on its central metaphor, The Tree is a moving and ultimately hopeful meditation on grief with shades of magical realism.
Movie Info
Blindsided with anguish after her husband's sudden death, Dawn (Gainsbourg)-along with her four young children-struggles to make sense of life without him. Eight-year-old Simone (unforgettable newcomer Morgana Davies) becomes convinced that her father is whispering to her through the leaves of the gargantuan fig tree that towers over their house. The family is initially comforted by its presence, but then the tree's enormous roots slowly begin to encroach on the abode and threaten their fragile existence.... -- (C) Zeitgeist Films
News & Interviews for The Tree
Critic Reviews for The Tree
Audience Reviews for The Tree
I expected a lot more from this film, just wasn't what I saw in the previews. But still an enjoyable family film from Australia. About a young girl who loses her father and she believes the sprit of her father is in a tree outside there house. Might make a film festival somewhere. Even if it does its not going to be one of the outstanding films of that festival. 3 stars
Bruce Bruce
Super Reviewer
½
** out of **** "The Tree" is a perfect example of a movie that has all the necessary materials - an appealing set-up that promises emotional resonance and overwhelming warmth, a strong starring performance from a well-respected actor/actress, and an almost outlandish sense of care for the setting of choice. In the film's case, that setting is Australia; and the film decidedly embraces as much of the place as it can. This is a film of beautiful sights, a few genuinely stunning images, and some excellent performances all around. But it's also a film that lacks dramatic or emotional insight, and advertises itself as an art film - therefore promising abnormality - and ultimately lying by delivering normality in the worst degree. One wonders why it was made; and so well. What we've got here is your basic grieving drama with a twist; Dawn (Charlotte Gainsbourg) must face the philosophies of life after her husband dies from a heart attack, leaving her to look after their family on the secluded farmhouse in which they have resided for years. Next to the house, there is a very large tree (a Moreton Bay Fig to be precise); and until now, it has served little a purpose aside from providing the children with an expansive and popular addition to their playground; which is essentially their backyard. However, now one of the young daughters believes that within the tree lies the soul of her dead father. In other words, she thinks that her father - through the leaves of the tree - can send her messages from his next life and have extended chats with her and anyone else willing to believe in such otherworldly existence. Dawn is skeptical at first; but soon learns to accept that maybe - just maybe - there is a possibility for spirituality in her boring, depressing, slow-moving life. Through this new-found optimism, she embarks on a self-journey to piece her life back together and basically start anew; she falls in love with a local plumber, who also employs her, and the kids try to cope with the mixed emotions that can be either taken or received from such a thing. That's your story; no more and no less than what I've just described. If that sounds like your idea of a solid grieving drama, then please, be my guest and give this movie a go. I didn't particularly mind it myself; it's about as melodramatic, formulaic, and uninteresting as most films of its kind that I've seen, but at the same time, not as bad as, say, half of the lot. I'll admit that it's pretty well-made on a technical scale; the filmmaking is certainly competent and there were few noticeable stylistic errors to be found (in fact, the most stylistic moments actually work pretty well). If only the story and the characters were up to par with those qualities, then damn, this would have been a hell of a drama. This is the kind of movie where you desperately want to "feel" something, but the narrative pretensions and thematic ambitions consistently get in the way of you bringing out as much as you bring in. It's just not a movie for everyone; and as I imagine, not a movie for most people much like myself. But that's just a general assumption; and boy, I could be wrong. "The Tree" is, with all due respect, a pretty decent flick; but that's literally it. If you crave something more, then it's time to move along. Anyways, the critics seem to like this one as a whole; I'm not the only detractor, but the reactions are slightly more positive than negative at this point. "The Tree" is pleasant and visually interesting enough to appeal to a certain crowd (the newbie art-house crowd, the drama crowd, the sappy crowd). But it failed to leave a lasting impact on me; and while I openly accept the fact that not all dramas are made equal - and therefore, not all of them really need to reach me on some complex emotional level - this one underachieves rather grossly. But hey; it's completely up to you whether you're fine with that or not. I wasn't.
Ryan Marshall
Super Reviewer
½
Metaphorical at every turn, "The Tree" is about letting go without giving up. Its languid pace worked against it initially but the storyline eventually grew into its own, with the respectfully delicate disconnects emphasizing on events that push the characters towards acceptance and resolution. Well acted, the pairing of Charlotte Gainsbourg and the young Morgana Davies is compelling to watch. The film also gets an extra boost for using The Cinematic Orchestraâ(TM)s "To Build A Home," a favourite song of mine.
The Tree Quotes
| | |
| --- | --- |
| Dawn: | I can't remember what life was before them, and I can't imagine life with out them. |
| | |
| --- | --- |
| Dawn: | We are going to miss him for as long as we live. |