The Tree of Life
(2011)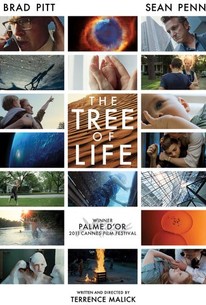 TOMATOMETER
AUDIENCE SCORE
Critic Consensus: Terrence Malick's singularly deliberate style may prove unrewarding for some, but for patient viewers, Tree of Life is an emotional as well as visual treat.
Movie Info
From Terrence Malick, the acclaimed director of such classic films as Badlands, Days of Heaven and The Thin Red Line, The Tree of Life is the impressionistic story of a Midwestern family in the 1950's. The film follows the life journey of the eldest son, Jack, through the innocence of childhood to his disillusioned adult years as he tries to reconcile a complicated relationship with his father (Brad Pitt). Jack (played as an adult by Sean Penn) finds himself a lost soul in the modern world, seeking answers to the origins and meaning of life while questioning the existence of faith. Through Malick's signature imagery, we see how both brute nature and spiritual grace shape not only our lives as individuals and families, but all life. -- (C) Fox Searchlight
News & Interviews for The Tree of Life
Critic Reviews for The Tree of Life
Audience Reviews for The Tree of Life
With breathtaking visuals and an emotionally compelling story, this is a magnificent spectacle that confronts the smallness of mankind with the majesty of the universe - and a mesmerizing, transcendental ballet of images that attempt to evoke the true essence of the Divine.
Carlos Magalhães
Super Reviewer
I'm quite amazed that this film was released in mainstream theaters. That's a pretty interesting commentary on our society right there. I will leave you to interpret and understand that statement as you much like what Terrence Malick has done with this movie, which stands out as one of the most thought provoking, stunning, and confounding films (probably) ever made. There are shades of Kubrick throughout, but ultimately, this is completely and originally Malick doing Malick. What is this film about? Well, everything, really. The creation of Earth and life on it, the human experience, and questions of very philosophical (mostly existentialism) and religious natures done in a very fractured, abstract, and allegorical fashion. All of the above is primarily filtered through the growing up of Jack O'Brien, played as an adult by Sean Penn as he reminisces about growing up in a fractured family in Texas in the 1950s, where he is portrayed by newcomer Hunter McCracken and is raised by a very overtly kind and caring, yet cowardly mother (Jessica Chastain) and a rigid, very strict authoritarian father (Brad Pitt). The film mostly is set in the past, with flashes to Jack as an adult, but also interspersed are glimpses of the far past, namely with a jaw dropping 17 minute sequence chronicling in detail one explanation for life on Earth. This is an abstract art film and nearly it's finest. It's probably the best example of strict formalism and impressionism that I can think of, as well as a superb example of cinema as art. This isn't a movie in the conventional sense, but a very stylistic and formalized piece of art. If you don't understand it, that's fine. Maybe we're not supposed to. As long as it makes us feel *something* or have some sort of reaction, whatever it may be, then it has succeeded. The film is heavy on symbolism (a vast understatement), and is begging for detailed and lengthy discussions concerning religion and philosophy, and I'm okay with that. For the most part, I found myself quite engaged and on the film's wavelength. It's a very challenging picture though, especially to sit through as it is non-linear, leisurely paced, extremely light on a real plot or story, and also 138 minutes in length, even though the original amount of footage shot equals a staggering 8 hours. I'm glad I saw this, and I enjoyed it a great deal, but I had my problems with it. Some of it really baffled me and made no sense, I did get fidgety at times (but as someone with ADHD, I think I managed extremely well), and the stuff with Sean Penn, though I love him and know that Malick had his reasons for that part of the film, really sticks out to me as something weak that doesn't really work. It seemed forced and nothing was really done with it. What I did like or love though, where the formal elements of this thing: Malick trademarks such as sparse dialogue (but compensated by copious amounts of voice over), having nearly all of it take place outside, philosophical and spiritual themes, and nature playing a huge role, and gorgeous cinematography. Like they did on The New World, Malick and his DP made themselves adhere to a strict set of guidelines for shooting this film (look up the list on imdb if you want). The results are absolutely brilliant and this is one of the most beautiful and captivating films I've seen both in general, and how they utilized everything to get their message out. Malick apparently also issued a set of guidelines for theaters on how he wanted the film to be shown in order for audiences to receive what he considered to be the best way of seeing it. I enjoyed the acting as well. Jessica Chastain gives a graceful (no pun intended) performance as the mother, and proves she can be more than just a good looker with her quiet reserve and nuanced turn. Brad Pitt shines as the rigid father who is more of a force of nature in the unpredictable way he goes about living his life and raising kids. Both parents do love their kids, but in different ways, as per their respective philosophies on life and how to live it. The breakout though is Hunter McCracken as the young Jack. If this kid is to have a film career, he may very well go quite far as evidenced by his layered performance that, for a newcomer is really quite something. The music, all of it classical, is wonderful and perfectly captures the mood, tone, atmosphere, and essence of things. In conjunction with the visuals, this film creates an amazing A/V experience. The visuals and effects are pretty good as well, sometimes great. A mixture of effects were used, though some of it doesn't look quite as good as the others (some of the cgi dinosaurs, yes dinosaurs) .The film had like 4 or 5 editors or so, and it kinda shows because there's some much going on that it'd be quite a challenge for one person to take on. I know this film wasn't intended for everyone, but even then, I think Malick could have truncated some of this down or at least had a slightly less reserved pace. As I said though, this perhaps was purposely supposed to be just what it is and everyone is left to their own devices to look at it how they will. I would like to think that multiple viewings might uncover more levels of understanding and depth, but perhaps not. That's not a bad thing necessarily, just something to note. Perhaps I will revisit this someday, maybe see it in high definition on a large screen with an excellent stereo system, and with someone I could have a discussion about it with, because, let's face it, it's easier (at least for me) to talk about this movie than it is to write about it, and I'm sure I'm not alone. I won't force this upon anyone, but do think you should give it a try, even if you have more trouble with it than I, because stuff like this doesn't get made very often, and not enough people do what Malick does, both of these things being stuff that I think need to change.
Chris Weber
Super Reviewer
[img]http://images.rottentomatoes.com/images/user/icons/icon14.gif[/img]
Directors Cat
Super Reviewer
The Tree of Life Quotes
| | |
| --- | --- |
| Mr. O'Brien: | My sweet boy. |
| | |
| --- | --- |
| Young Jack: | Where were you? You let a little boy die. You'll let anything happen. How can I be good, if you aren't? |
| | |
| --- | --- |
| Young Jack: | Where were you? You let a little boy die. You'll let anything happen. How can I be good, if you aren't? |
| | |
| --- | --- |
| Mr. O'Brien: | You make yourself what you are. You gotta control your own destiny. Can't say "I can't". You say I'm having trouble, I'm not done yet. You can't say "I can't". |
| Mr. O'Brien: | You make yourself what you are. You gotta control your own destiny. Can't say 'I can't'. You say I'm having trouble, I'm not done yet. You can't say 'I can't'. |