The Trotsky
(2010)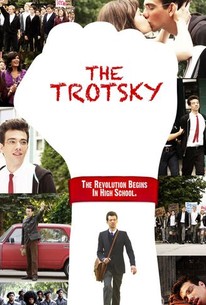 Movie Info
An unusually intense teenager gets the idea that his name defines his destiny in this offbeat comedy. Leon Bronstein (Jay Baruchel) is a young man who has made the discovery that his birth name is the same as that of Leon Trotsky, the celebrated Russian revolutionary and socialist theorist. This coincidence leads Leon to believe that he is the reincarnation of Trotsky and it is his destiny to follow his path as closely as possible -- which is a bit difficult when you have rich parents and attend an upscale private school in Montreal. Leon's father (Saul Rubinek) gives his son a part-time job in one of his clothing factories, and within a day Leon is leading his fellow workers in a sit-down strike. Father isn't amused and punishes Leon by making him attend public school, but there the world-be revolutionary finds new ways to battle fascism -- which in this case is represented by Principal Berkhoff (Colm Feore) and Mrs. Davis (Domini Blythe), a teacher eager to give her students detention. Leon's pursuit of social justice causes him to fall in with Frank (Michael Murphy), a burned-out activist-turned-college professor, but Leon also finds himself infatuated with Frank's current girlfriend -- who, like Trotsky's great love, is named Alexandra (Emily Hampshire) and is nine years older than he. Directed by Jacob Tierney, The Trotsky was an official selection at the 2009 Toronto International Film Festival.
Critic Reviews for The Trotsky
Audience Reviews for The Trotsky
½
The Trotsky is a charming but flawed teen comedy set in Montreal, about a wanna be radical without a cause, Leon Bronstein (Jay Barchel), who tries to start a pointless Communist revolution in his high school. Leon believes he is the reincarnation of his namesake, Leon Trotsky, and that his life will parallel his famous namesake. It gets by on the charisma of its excellent cast. I know the humour of the film is supposed to draw attention to the fact that he's rebelling against very little except post modernist youth apathy but that is not an inherently dramatic concept. The film also relies on references to Marxism and Bolshevist history that will be completely lost on the teen comedy Apatow audience that talented writer director Jacob Tierney is going for. The Trotsky is amusing and charming but rarely funny. A smilar film, Rushmore gets more laughs and is much less predictable. When the crazy Leon finally gets arrested and gets his fellow students to join his revolution, it happens for no reason at all. However, almost everyone shines, from the students to the adult antogonists. Barchel is a terrific, likeable and sincere lead and carries the film. Saul Rubinek plays Leon's disgruntled Jewish businessman Dad, Colm Feore is the slightly hard ass school principal, Michael Murphy is a Vietnam draft dodger radical who regains his ideals as Leon's attorney, and Genevieve Bujold makes a lovely return to film as the dictatorial school board chairwoman. And though their romance is not believable, the lovely Emily Hampshire plays Leon's older girlfriend who has the same name and age difference as Trotsky's wife. Thought set in my native Montreal, the film is shot on generic sets which do not capture the atmosphere of the city as well as recent films like Barney's Version or Monsieur Lazhar. However, I loved the very fresh rock soundtrack by Quebecois band Maljube and the title sequences which are hip versions of communist poster art of the Bolshevik period. Definely a charming time waster and worth a rental. But for all you ex-radical parents, it will not turn your kids into more socially engaged socialists, so don't get your hopes up.
Josh Morris
Super Reviewer
Cast: Jay Baruchel, Saul Rubinek, Geneviève Bujold, Emily Hampshire, Colm Feore, Jessica Paré, Justin Bradley, Liane Balaban, David Julian Hirsh, Ricky Mabe, Michael Murphy, Anne-Marie Cadieux, Domini Blythe, Kaniehtiio Horn, Jesse Rath Director: Jacob Tierney Summary: Seventeen-year-old Leon Bronstein (Jay Baruchel) thinks he is the reincarnation of Russian October Revolution leader Leon Trotsky, thus staging a strike at his father's (Saul Rubinek) factory and then a student walkout at his new school. My Thoughts: "You cannot describe this film without using the word quirky. Had some odd character's and interesting story. Jay Baruchel, gives a great performance as Leon Bronstein. He is over the top and brilliant. I did feel like he seemed a bit old for the character who was suppose to be 17. He seemed much older for that age, but so did the character he was playing, so maybe it was why they chose an older looking actor? But even though the character seemed very smart, there were also moments you saw that he still had some growing up to do. Funny film, but not sure if it will be to every-one's liking."
♥˩ƳИИ ƜѲѲƉƧ♥
Super Reviewer
Wacky, yes. Funny, yes. Serious, yes. Quirky love, yes. My kind of film, yes. Jay Baruchel does his thing so well. Even Genevieve Bujold knows something is happening, and shows up for the film. Charming, fun, and wonderfully original.
Cynthia S.
Super Reviewer
The Trotsky Quotes
| | |
| --- | --- |
| Leon Bronstein: | Dwight, are you my Stalin? |
| Leon Bronstein: | Are you my Stalin, Dwight? |