The Trouble with Harry
(1955)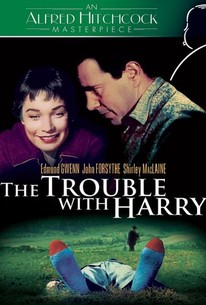 The Trouble with Harry Videos
The Trouble with Harry Photos
Movie Info
In this film, Jerry Mathers stumbles upon Harry's corpse in the woods. Mathers alerts his mother Shirley MacLaine, who recognizes Harry as her ex-husband. Later on, retired sea captain Edmund Gwenn comes across the moribund Harry. Both MacLaine and Gwenn have reason to believe that they're responsible for Harry's demise.
Critic Reviews for The Trouble with Harry
Audience Reviews for The Trouble with Harry
This is a delightfully twisted film from old Mr. Hitchcock. Set in a small Vermont town during autumn, this is a mystery/comedy centered around a dead body. A man named Harry is found dead by a small boy who immediately goes and tells his mom. As she and others happen upon the corpse, they all, for different reasons, think they are to blame in some way for his demise. What follows then are their many attempts to hide the body and cover their tracks as the threat of being caught looms over head. This is somewhat atypical Hitch because it is the closest he ever came to overt comedy. Granted, it's about a corpse, and the bulk over the humor is of the dry, and darkly morbid variety, but still, even with some suspense, this is a rather lighthearted affair. It's got a good set up, and some wonderful moments, but I do think the ending is rather problematic, mostly because it seems rushed and tacked on. Everything else though is fine. We get a good cast and some fine performances from this one too. A young Jerry Mathers plays the little boy, his mom is played by then 20 year-old Shirley MacLaine in her film debut, and Edmund Gwenn, John Forsyth, Mildred Natwick, and Royal Dano round out the key players and suspects. With the technical stuff, we get some good cinematography, and real nice visuals, some of which come off as really painterly and picturesque, which is fitting given that art plays a sizable role here. There's an enjoyable and playful score from Bernard Herrmann, and the overall mood and tone make this movie a real off-kilter treat. It's not the best, and I might be somewhat inflating my grade, but this film gets a lot right, and it is supremely enjoyable, so, if it's not too much *trouble*, try to give it a watch, okay?
Chris Weber
Super Reviewer
½
Hitchcock's black comedy classic is a different direction for the master and he adapts well.
Graham Jones
Super Reviewer
½
Hitchcock's delightful but somewhat shallow dabbling into dark comedy featuring a young and absolutely beautiful Shirley MacLaine.
Randy Tippy
Super Reviewer
The Trouble with Harry Quotes
There are no approved quotes yet for this movie.