The True Memoirs of an International Assassin
(2016)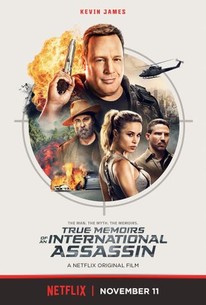 The True Memoirs of an International Assassin Videos
The True Memoirs of an International Assassin Photos
Movie Info
The action comedy stars Kevin James as Sam Larson, a mild-mannered would-be author who gets mistaken for a killer-for-hire when his fictional novel about an international assassin is published as a true story. When the book is a huge success, he is suddenly kidnapped, taken out of the country, and forced into an assassination plot.
Critic Reviews for The True Memoirs of an International Assassin
Audience Reviews for The True Memoirs of an International Assassin
Netflix has had their share of incredibly well-done television shows and even a few original films, but once Adam Sandler made a deal that would give the Happy Madison production company a multi-picture contract with them, people began to worry. From the awful Ridiculous 6 or the missed mark in The Do-Over, I was not holding out any hope for Netflix with this type of content. After my viewing of True Memoirs of an International Assassin, my perspective on that notion has not changed, but rather lessened. Although this truly does feel like a television film, it does have a screenplay with a premise that deserved a better end result. Here is why True Memoirs of an International Assassin is one big failed promise. While the opening of this film begins with the same dumb humour you have come to expect from this type of film, the way the story itself switches gears was intriguing. Following Sam (Kevin James), a novelist who is about to finish his novel 'Memoirs of an International Assassin,' it is picked up by a woman who knows her way around the internet and can easily sell this premise online. With the title of the book changed to 'True Memoirs of an International Assassin,' he is kidnapped and brought to Caracas, thought to be the hero of his own story, solely due to the fact that the word true was placed in the title of his novel. If that doesn't sound dumb to you, then you will probably enjoy this film quite a bit. For myself, it lost me at that point, even though there are a few redeeming qualities throughout. Normally the schtick that Kevin James constantly dishes out has begun to annoy me, but for some reason, I found his character oddly charming this time around. It's almost as though he is terrified that this is happening to him, but also secretly loves that it is. His partnership with actress Zulay Henao (who is nothing to write home about performance-wise) was very enjoyable to watch. His quirky performance, mixed with her badass persona meshed well enough for this type of premise. What I had trouble putting my finger on was how Andy Garcia felt so devoted to the character he was portraying. There are many odd casting choices here, but they all seem to work fairly well throughout. While I never expected to like everything about this film, it should always be clear (no matter how bad your film is) on the villains motivation. Having said that, although there is one clear villain, there are multiple henchmen that feel like stronger characters than the main focus, which threw me off on many occasions. On top of that, the story was so focussed on making Sam the hero of the story that it changes course too many times in order to switch its focus to his character. Right as it is about ton get serious and show some detail in the backstories of some of its side-characters, it cuts right back to Sam. This was very annoying, at least for me. I wish I cared more about what was going on, but at least Kevin James brings a likability to Sam. When this film began, I truly thought that I may just be giving it a positive score, but it loses so much steam, focus, and comedy throughout, that I lost all interest by the end. Good comedy was another thing this film was missing, but it did focus more on character and action, so I was able to forgive that a bit. There are a few funny moments throughout, but not enough to make the film worthwhile. True Memoirs of an International Assassin tricks you into thinking it will be a decent film when it opens, but ultimately becomes muddled down in over plotting, a dwindling screenplay, cinematography that feels like they just wanted to get the job done and go home, and a conclusion that can be predicted from a mile away. This film is all wasted potential in my opinion and if it was in other hands, it could have made for a fun little flick. For that reason, I just can't get myself to recommend this film in the end.
I've never and will never be the biggest Kevin James fan. He uses his everyman likability to disguise the fact that, honestly, he's not a very good comedic actor. I'm not saying that's fact, it's just my opinion. Plus he seems like one of those kinds of guys who puts on a likable face on-screen but is really an asshole off it. Maybe that's just me, but that's how I see him being. It's been one year since Sandler released his first Netflix movie, the awful Ridiculous Six. So it shouldn't be any surprise that Sandler, through this Netflix deal, managed to score a SERIES for his buddy Rob Schneider, fucking seriously, and a Netflix original movie for his other buddy Kevin James. Maybe I'm wrong about the latter, since this movie isn't actually produced by Sandler's film company Happy Madison, but I'm sure Sandler helped connect the two parties even if his company didn't produce this film. Admittedly speaking, I don't really even know why I watched this in retrospect. I mentioned on my twitter that I wanted to watch something stupid and that I'd probably regret that decision later. Now, almost a day removed from having actually watched the film, would I say that I regretted watching it? I don't know if I would go so far as to say regret, but I would say that this was a missed opportunity. Much like Ricky Gervais' Netflix original film Special Correspondents. It's not that I expected this to be an all-time great comedy of epic proportions, but there's potential here to tell a broad, but slightly entertaining, film if you just gave it the right treatment. It didn't get the right treatment, let's just say that right now. It's not actively awful like, say, The Ridiculous Six or The Do-Over, but it's not what one would call a very funny movie. The problem is that I don't know if the movie was legitimately trying to be funny. Like there's some scenes that just fall flat on their ass and you're like 'that can't be the punchline, there has to be something else.' But no, there's not and then they move on to the next scene. There's a couple of chuckles here and there, but is that really enough to save the movie? Of course not, it needed far more than that. The problem, to me, is the fact that, as I mentioned, Kevin James just isn't that good at his job and he's definitely very limited as to what he can do. You needed a more dynamic performer than he to help elevate material this weak. Like a Jonah Hill, for example. And that's just as an example, cause he never would have done this. Maybe he could have also lent a hand with the script, which James could not do. So, yes, the movie is unfunny, but I don't feel that it crossed the line into awful at any point. Which, honestly, is a welcome surprise from a film from Sandler or any one of his buddies. This isn't Paul Blart 2, not to worry. I will say that the movie got slightly better as it went along and, really, the only entertaining part of the film is Kim Coates as the U.S selected president of Venezuela. His role is, literally, all of 5 minutes, which is a shame, cause I found him entertaining. If the movie had more of him and you got to see the political machinations of the U.S at play, it would have given the film a bit of a satirical edge. They weren't going for that, obviously, but still. It would have been something of interest. The film is fairly basic outside of that. It involves political assassinations, but it's not even as interesting as it sounds on paper. The rest of the cast is fine, nothing to write home about. There are some talented people here, but you would never actually know it from the way they were utilized. One thing that was refreshing is to have seen the fact that there was no romantic subplot between Kevin James and Zulay Henao because, I mean, let's be serious here. Seriously though, at least they didn't try to cram it in there even if it didn't make sense. With that said, this isn't a good movie at all. It's below average at best, but if you love Sandler and his buddies and were disappointed at Sandler's first two Netflix flicks, then this will be like The Godfather for you. Still not a good movie though. Netflix original comedies need to step up their game. The films at least, the series have been good.
Jesse Ortega
Super Reviewer
The True Memoirs of an International Assassin Quotes
There are no approved quotes yet for this movie.