The Trust
(2016)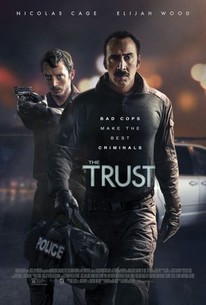 TOMATOMETER
AUDIENCE SCORE
Critic Consensus: The Trust may not be an all-time heist classic, but its solidly workmanlike plot -- and the chemistry between Nicolas Cage and Elijah Wood -- should satisfy genre enthusiasts.
Movie Info
Waters and Stone are two nobody police officers working dull administrative jobs and making extra money selling stolen Civil Service Exams to other officers. When Stone hears a story about a heroin dealer quickly beating his extremely high bail, the two friends set into motion a plan to find the origin of such a large amount of cash. Through diligent police work they follow a trail that leads directly to a custom bank-style vault built into the back room freezer of a small grocery store. They put a plan into motion to rob the vault and split whatever they find inside. But by the time they figure out what the vault contains, it's already too late to turn back.
News & Interviews for The Trust
Critic Reviews for The Trust
Audience Reviews for The Trust
Cage hasn't been so rewarding in a film project for quite some time. He has been stuck in the market of making films for a debt and sadly his career has taken a turn for the worst. Wood and Cage ignite an otherwise typical heist film and without them, this film would be relegated to VOD territory forever. The film has a wicked sense of humour and remains unpredictable until the the bitter end. The film is not without its flaws but it is a solid entry into the heist market that is quite overcrowded and glorified by Hollywood these days. The Brewers have substance and style which will serve their careers well for future projects. Cage should find more developing filmmakers for his wide variety of talents, he can really set the screen on fire when he gets going. 22/10/2018.
Brendan O'Connor
Super Reviewer
I used to not get it. I used to be ignorant. Hell, realistically speaking, at one time or another we have all been ignorant. That's not a bad thing, that just means that you're not as knowledgeable as something as you'd like to be. You can also use ignorant when it comes to people who are racist or homophobes, but I'm talking about the real definition of the word. I used to be someone, and I know I bring this up a lot when I review films about this particular actor, that absolutely hated Nic Cage movies. I just fucking HATED watching him. I absolutely crucified his performance in The Wicker Man remake. But then I watched The Vampire's Kiss, the film that really started him off as the insane, wacky actor we all know and love. That movie was a revelation. The light bulb finally went off in my head and I realized that he wasn't actually an awful actor, he actually really isn't, but he sort of gets off on being a manic actor. Someone whose unpredictability, as it relates to line delivery, leads to very comical scenes. Whenever you see him doing something insane, where he looks like the worst actor on earth, he's clearly doing it on purpose. And ever since then, The Vampire's Kiss was a life-changing movie for me, I've loved Nicolas Cage. Legitimately speaking, when the guy is on and he's not fucking around, he's pretty damn good. He's not one of the best I have seen, but he does a good job at inhabiting characters that he legitimately cares about. If he doesn't care about the movie, then he's lazy as fuck. This is one of those movies where, clearly, he loved the script. Perhaps loved is too strong of a word, but I can sense that he liked the script enough where he brought, or at least attempted to bring, his best. I think it's more attempted to, since he was better in Joe and Bad Lieutenant: Port of Call New Orleans. This might not be the best movie I've ever seen, it sort of plays out like a Tarantino-lite flick. Not that there's anything wrong with that, but there's just that vibe. The idiosyncratic characters, the eclectic soundtrack, the dialogue and the acting. It's got that vibe. Parts of it, legit, remind me of Reservoir Dogs. Now, of course, not every movie where a heist goes wrong and several people end up dead is similar to Reservoir Dogs. But taking into consideration all the other similarities I just mentioned, it's a fitting comparison. A comparison that I'm sure the filmmakers would welcome. With that said, I did enjoy this movie quite a bit. Which is why I'm so surprised that audience reaction, at least percentage wise, seems to be so negative toward the movie. Well, that doesn't mean that 28% thought the movie was good, that 28% is the percentage of people that gave this a score of 3.5 stars or higher. And, as you can see, I didn't give this 3.5 stars, so I'm part of the 72% that saw this movie "negatively". The point is that the movie was better, at least to me, is better than the audience reception would imply. And that's not to minimize anyone who might have disliked this movie for very legitimate reasons. It's just my opinion that this is a pretty good movie all things considered. I get the complaints about the ending not making much in the way of sense, and I do agree with some of that, that it was an unexpected twist for the sake of one, despite them actually setting it up in a previous scene. But that, to me, doesn't affect my opinion of the movie at all. I still came away from this having enjoyed it. I thought the movie was well-paced. Nicolas Cage and Elijah Wood are both really good and they have strong chemistry together. The movie, thankfully, has a sense of humor. Which makes some of the darker moments of the film even more memorable, like several scenes where Stone (Cage) reveals himself to be so much more than just a goofy cop who's trying to break into this safe to steal what's inside. The movie has issues, though. Like I wish that Stone and Waters (Wood) had more of a reason to pull this heist off other than just because. They're obviously not drowning in cash at the moment the film's events begin, but the script should have done far more to make them seem desperate enough to actually attempt to pull this heist off. It doesn't matter in the long run as I still enjoyed this flick, but it's just something I wish would have been a little better. Things go wrong, obviously, but the partnership between Stone and Waters ends a bit too abruptly for my liking. ***SPOILERS*** Waters shoots Stone and 'kills' him, but it all looks a little bit too suspicious. It honestly seems like Waters is trying to lure Stone into a sense of security before killing him. But Stone never gets up. And I felt that the ending was a bit flat. Maybe that plays into the ending and Stone has been scheming this from the very start, but if it wasn't then it was just a bit weird seeing Stone's downfall come so abruptly. This brings us to the real ending of the film, which I won't discuss, I've already spoiled too much of the movie. Not that there's much to spoil. Once the movie starts and it's decided that Waters and Stone are gonna pull this off, you know that it's not gonna end well for, at least, one of them. Maybe both of them. So, at least as it relates to that part, the movie was a bit predictable. Not a killer for me, mind you, but still predictable. I don't really have much else to say about this. This is a good little movie. It borrows heavily from Tarantino's style of filmmaking, but it's a good movie in its own right thanks to a solid script and good performances from Elijah Wood and Nicolas Cage. I'd give it a slight recommendation. I know a lot of people will hate the ending, so I can't go all out, but I'd like to see more people give this a shot.
Jesse Ortega
Super Reviewer
A splendid little film with a delightful soundtrack. Amazingly, I didn't hate Cage and Wood was more substantial than an elf. It's a bit quirky, but it's worth your while.
Christian C
Super Reviewer
The Trust Quotes
There are no approved quotes yet for this movie.