The Truth
(2010)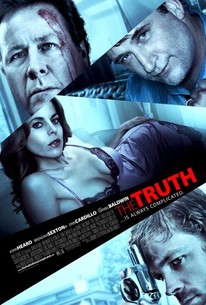 AUDIENCE SCORE
Critic Consensus: No consensus yet.
Movie Info
This searing direct-to-video drama from director Ryan Barton-Grimley begins with an ugly situation: a well-to-do couple gets taken hostage in their posh home by a burglar. The night then grows ever more volatile as old secrets and thinly-veiled motives rear their heads and threaten to permanently destroy the victimized pair's future as a married couple. ~ Nathan Southern, Rovi
Critic Reviews for The Truth
There are no critic reviews yet for The Truth. Keep checking Rotten Tomatoes for updates!
Audience Reviews for The Truth
The truth is that once you get into this movie, it really isn't bad. This film starts out as awful as can be, and if I wasn't watching it with someone else, I might have turned it off, but it does eventually get much better. In The Truth, three people who don't know each other are connected by things they've done in the past, and of course there is only one way to get them to admit what they've done. When you kidnap them, torture them, and stick a gun in their face's, people tend to become a bit more agreeable. This film is unique because of the varying degree of talent offered by this cast. John Heard is a tremendous guest star and a great secondary character, but as a lead he is ridiculously in over his head. Heard may have taken this role for the paycheck and it shows. The Killing's Brendan Sexton III, on the other hand, basically makes the movie with his outlandish behavior and his cheesy, but hysterical comments. The truth about The Truth, I wouldn't run out and buy it, but if I saw it again on TV, I wouldn't turn it off either. It's pretty well written, the acting isn't terrible, and it has it's moments.
Todd Smith
Super Reviewer
If you're going to film what is essentially a one-act play, you must have both a compelling plot AND a riveting cast. Successes include Rope and Death and the Maiden so it can be done. The story of a home invader who knows both his targets, a husband & wife, better than they know each other is good fodder for interesting drama, but he screenplay opts for pointless, repetitive mind games and annoying flashbacks. As for the cast, John Heard is usually decent in supporting roles but certainly cannot carry 1/3 of a movie, and he's much better than the other two. I ceased caring what happened to anybody before the halfway mark, fail on almost all counts.
Doctor Strangeblog
Super Reviewer
The Truth Quotes
There are no approved quotes yet for this movie.