The Unbelievers
(2013)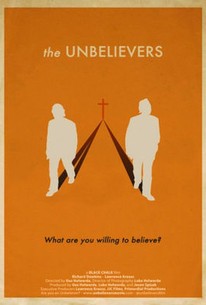 Movie Info
'The Unbelievers' follows renowned scientists Richard Dawkins and Lawrence Krauss across the globe as they speak publicly about the importance of science and reason in the modern world - encouraging others to cast off antiquated religious and politically motivated approaches toward important current issues. (C) Official Site
Critic Reviews for The Unbelievers
Audience Reviews for The Unbelievers
These guys are brilliant and I could watch their conversations for hours straight, but the movie also starts to sadly resemble a pamphlet for the "cause" instead of promoting more meaningful discussions that could really speak to people. Even so, I would recommend it to everyone.
Carlos Magalhães
Super Reviewer
½
This film did not really provide any significant insights into the subjects or their movement. I was a bit disappointed.
Christian C
Super Reviewer
½
Gus Holwerda tries to get us to think about the bigger picture, and the way the universe is built, but instead he brown noses Richard Dawkins and Lawrence Krauss throughout this documentary. There have been better, more in-depth, and thoughtfully edited documentaries on this subject. Holwerda follows these two men around, and lets them speak about subjects precluding to atheism/agnosticism/humanism, so at first it seems to be about them touring the world speaking about their work, but it devolves from there. Soon we're interviewing different atheist personas, looking at bigger and more important subjects, and looking at a worldwide conference. These moments go by so quickly that it makes you wonder why they were included it at all. Holwerda also cuts away from speeches to show scenes of the actual travel, with moody musical accompaniment that isn't needed. I wanted to see more of the talks these men give, and them talking about touring the world. There were definitely some interesting ideas spouted and expanded upon, but the narrative didn't quite string along seamlessly, and that really created dissonance with the audience.
Spencer S.
Super Reviewer
The Unbelievers Quotes
There are no approved quotes yet for this movie.