The Unfaithful Wife (La femme infidèle)
(1969)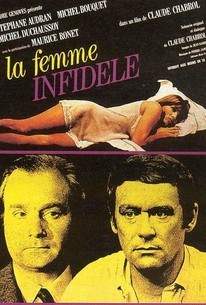 Movie Info
Claude Chabrol wrote and directed this tale of a cuckold (Michel Bouquet) who kills his wife's lover. Stephane Audran, Maurice Ronet. Duval: Michel Duchaussoy. Bignon: Serge Bento.
Critic Reviews for The Unfaithful Wife (La femme infidèle)
Audience Reviews for The Unfaithful Wife (La femme infidèle)
½
Without giving too much away, "La Femme Infidèle" is a murder story bookended by two phases of suspicion: a husband's (Michel Bouquet) questioning of his wife's fidelity, and the wife's (Stéphane Audran) realisation that her husband may have committed a crime of passion. What makes the film so special is the novel concept of murder as a declaration of love, an act of savagery capable of bringing two people closer together rather than blasting them apart: extreme marriage therapy, if you will! The other thing that Chabrol does very well here is to deglamourise the act of murder itself, portraying it as an ugly, sordid business, fraught with complications. Curiously, this generally sombre film lightens considerably when events take a drastic turn, and a healthy dose of darkly comic Hitchcockian suspense is introduced. A brilliant little movie.
½
[font=Century Gothic][color=indigo]"Secret Honor" is a one-man film directed by Robert Altman featuring Philip Baker Hall as a post-disgrace Richard Nixon in full drunken, venomous rage, dictating his memoirs. Therein, lies the problem with this movie - there is not a lot of subtletly and nuance here which does not allow for much insight into his character. Despite this negative portrayal, I felt this movie let Nixon off the hook somewhat. He comes off as somewhat tragic instead of the monster I imagine he was. It does not help matters that "Secret Honor" reminds me of a lesser Twilight Zone episode; you know one where the evil old man has to face the sins of his long life. Hall is excellent as Nixon but I still prefer Dan Hedaya's performance in "Dick."(Note: "Secret Honor" might make for an interesting but none too enjoyable double feature with "The Assassination of Richard Nixon.")[/color][/font] [font=Century Gothic][color=navy]"The Unfaithful Wife" is another straightforward piece of suspense from Claude Chabrol. This one is about a wealthy businessman(Michel Bouquet) who imagines that his beautiful wife(Stephane Audran) is having an affair. He hires an investigator for proof and goes to see the other man.(Like Chabrol's "L'Enfer", I am curious to know what makes the husband suspicious of his wife. And is it love or possessiveness that drives his actions?) This movie differs from some of Chabrol's other films in that it is a little trickier than most. Plus, there is much that is left unsaid and is left inferred.("The Unfaithful Wife" was remade a few years ago in English as "Unfaithful" starring Diane Lane and Richard Gere which I have not seen.) [/color][/font]
The Unfaithful Wife (La femme infidèle) Quotes
There are no approved quotes yet for this movie.