The Verdict
(1946)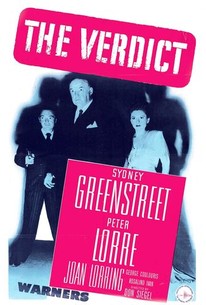 AUDIENCE SCORE
Critic Consensus: No consensus yet.
Movie Info
The novel The Big Bow Mystery by Israel Zangwill had been filmed in 1928 as The Perfect Crime and again in 1934 as The Crime Doctor. This 1946 version was the best and marked the directorial debut of Don Siegel. It also paired the popular duo of Peter Lorre and Sydney Greenstreet for the last time. Greenstreet plays George Grodman, a veteran Scotland Yard chief who is forced out after a murderer that he helped convict is found innocent after his execution. His successor is the pompous Buckley (George Coulouris), who vows to do much better. Lorre plays Victor Emmric, an artist illustrating a crime book that Grodman is writing. A tenant in a building near Grodman's apartment is found dead by a landlady who summons Grodman to the scene. The victim's door appears to have been locked from the inside. Chief Buckley fingers Clive Russell (Paul Cavanagh), a friend of Grodman. With only circumstantial evidence, the superintendent railroads Russell into a conviction that carries the death sentence. Grodman tries to prove his friend innocent, but the only woman who can provide Russell an alibi is dead.
Critic Reviews for The Verdict
Audience Reviews
There are no featured reviews for The Verdict at this time.
The Verdict Quotes
There are no approved quotes yet for this movie.