The Very Thought of You
(1999)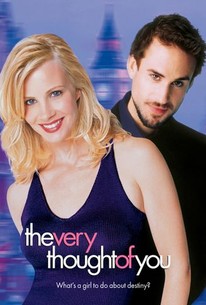 The Very Thought of You Photos
Movie Info
Nick Hamm (Talk of Angels) directed this U.K. romantic comedy following a group of British blokes and their encounters with an American woman in London. As Laurence (Joseph Fiennes, brother of Ralph Fiennes) narrates the tale to his neighbor, Dr. Pedersen (Ray Winstone), the scene flashes back to three days earlier: Laurence's friend Daniel (Tom Hollander) is in the Minneapolis airport on a business trip when he spots blonde Martha (Monica Potter of Con Air) buying a "first flight to anywhere." Daniel sits next to her on the plane and makes a London lunch date with her for the following day, but she's a no-show. He expresses his disappointment to Laurence and unemployed actor Frank (Rufus Sewell of Cold Comfort Farm). Frank meets Martha accidentally in a park, realizes who she is, learns she's in love and she intends to fly back to the U.S., and then makes a move on her (without telling her he knows Daniel). He loses track of her at an art gallery. Later, Laurence reveals that when he missed meeting Daniel at the airport, he wound up meeting Martha instead -- a moment of mutual love. At this point, much like the structure of Stanley Kubrick's The Killing (1956), the time is reset and previous events are repeated -- from the POV of another character. The movie is only two-thirds complete when Laurence finishes his recap of the previous three days -- so the story continues from that point. Shown at the 1998 Cannes Film Festival.
Critic Reviews for The Very Thought of You
Audience Reviews for The Very Thought of You
½
Passable romantic comedy with a few problems. First of all the direction is choppy and the story rather nonsensical which is often the case for a rom-com but they should be based in some sort of identifiable reality, this isn't. All that would be forgivable if the you were enchanted by the central character. Monica Potter is a decent actress and what could best be described as goofy in the lead but to make this story of three men instantly captivated by one woman work that woman would have to be entrancing like a young Audrey Hepburn or Margaret Sullavan loaded with gossamer charm which Potter is not and it's a flaw that the movie can't overcome.
½

Laurence recounts to his neighbour how his life long friendship with Frank and Daniel has been overturned... Martha, meet Daniel Frank and Lawrence is a somewhat misunderstood film. For a start it's more of a man's romantic comedy as its three guys all falling in love with the same woman. It may be predictable but this film has a certain charm to it that you can't ignore. It may be the case that because it's a British film, with three great British actors, that that is where the charm is coming from. I'm not sure whether it would be any good as an American film. From a woman's point of view, it's just a perfect film. Mainly because you have three relatively good looking lead guys who is the centre for the first part of the film. You try to guess which one of the three childhood friends she would fall far and perhaps who would you. For a man I think you can also relate mainly with the three actors. Plus, for both sexes, it centres on something which we all think about and wonder what we would do if we were in that position. I really don't think it's as bad as the critics on rotten tomatoes say. The script is, after all written by Peter Morgan, who wrote the scripts for The Queen and most recently Frost Nixon. A lot of the dialogue is centred on rather corny stuff like destiny and whether things happen for a reason, but because of the performances of Tom Hollander, Joseph Fiennes and Rufus Sewell, you do end up ignoring that completely. This film is one of those rare romantic comedies where, as I said before, because you can identify with the characters and the character of Martha, you can really get into the film and it doesn't seem reminiscent of previous romantic comedies-where you might have got incredibly irritated. The film is very short. At 83 mins, we don't feel like the film has dragged on too much or irritated by the characters. I love the subtle humour from the three guys, which creates such brilliant people to watch on screen. Interestingly, this film never made it to US theatres but was shown everywhere else in the world. I've been a Joseph Fiennes fan for a while now, and feel he's pick a few dodgy films over the years. (Look out for Vivaldi coming soon) but I can safely say that this is one of his better films. I can't tell you why, it just is. Also great support from Rufus Sewell and Tom Hollander both part of British Cinema these days. Look out for a funny performance from Ray Winstone and a cameo from none other that Rob Brydon. I have to agree that Monica Potter isn't so great in this film, but you can overlook that as there are better parts in the film. Recommended watch! Forget the American Romantic comedies and rent this little British film. 7/10
Sarah Gaish
Super Reviewer
A personal favorite. Joseph Finnes in this film is my kind of guy, someone who has a problem with speaking to a person of great interest.
The Very Thought of You Quotes
There are no approved quotes yet for this movie.