The Violent Kind
(2010)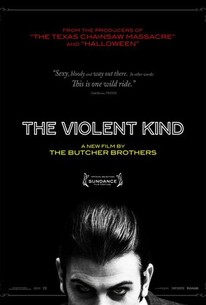 Movie Info
Bikers tangle with the spirits of the dead in this genre mashup from the writing and directing team the Butcher Brothers. Cody (Cory Knuaf) and Q (Bret Roberts) are a pair of outlaw bikers who are looking to lay low and have a few laughs after a deal with some drug runners takes a turn for the worse. Cody's mother will be celebrating her birthday soon, so he and Q hop on their hogs and head to Oakland for the festivities. The party turns out to be a major biker bash, with riders from far and wide represented, but when things start winding down, the evening takes a serious turn for the worse. A guest turns up dead, Cody's former girlfriend undergoes a terrible transformation and there's no way to call for help. As Cody and Q try to make sense of it all, the party is visited by the spirits of a deceased biker club from the 1950s, who are restless and looking to settle some scores. The Violent Kind received its world premiere as a special midnight attraction at the 2010 Sundance Film Festival.
Critic Reviews for The Violent Kind
Audience Reviews for The Violent Kind
Abysmal. People who watch this movie should have to answer an exit poll, and anyone who says they liked it gets exiled to a remote rocky island. The common wisdom is that no horror film loses money - let us pray The Violent Kind is the first so the Butcher brothers are never allowed to make another. Takes an early yet commanding lead for Worst Film I Have Seen In 2012.
Doctor Strangeblog
Super Reviewer
Bikers party at an isolated house, but a scarier, even more violent force is lurking in the woods outside. Grindhouse-style pic starts as a plodding EVIL DEAD-style grind but picks up when the devil-worshiping alien rockabilly ghosts show up; if the energy of the last third had been spread out through the entire movie, it would have been an above average horror.
The Violent Kind Quotes
There are no approved quotes yet for this movie.