The Virginity Hit
(2010)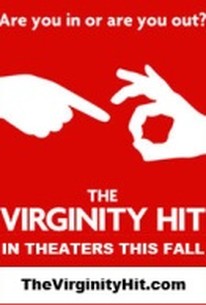 TOMATOMETER
AUDIENCE SCORE
Critic Consensus: A found footage farce without any trace of believability, The Virginity Hit is a painfully unfunny sex comedy that is even more amateurish than its hapless protagonist.
Movie Info
"The Virginity Hit" is down and dirty filmmaking at its finest in just about every way one can imagine. It's four guys, one camera, and their hilarious experience chronicling the exhilarating and terrifying rite of passage: losing your virginity. As these guys help their buddy get laid, they'll have to survive friends with benefits, internet hookups, even porn stars during an adventure that proves why you will always remember your first.
Critic Reviews for The Virginity Hit
Audience Reviews for The Virginity Hit
Here's a very interesting take on the teen sex comedy. Shot and told as if this were a documentary it chronicles a group of friends who try to help their friend Matt lose his virginity. Along they way they encounter frat parties, tranny blow up dolls, porn stars, and becoming youtube sensations. The performances are all decent and feel genuine. But that probably stems from them all being unknowns. Pretty uneven, and long gaps between funny scenes hold this back from being a very funny movie. Instead, it's a few very funny parts, scattered throughout 90 minutes. Kind of a less funny version of "American Pie" and "Superbad". Good for one watch if you want a laugh, just don't expect to laugh as much as you would like.
Everett Johnson
Super Reviewer
Zack: Have you ever lost your virginities? Wanna meet my friend? The main problem with 'The Virginity Hit' is that we don't care, like, or want to see the protagonists. Founded by Will Ferrell and Adam McKay, this film is about a group of friends, all who smoke out of a bong when losing there virginity. When there is only one left, the group attempts to get their buddy laid, and the story begins. 'The Virginity Hit' is vulgar, not in a good way, as most comedies are able to do nowadays (The Hangover, The 40 Year Old Virgin), but this film doesn't produce laughs except for a few brief moments, but those were chuckles. Not once did I find myself laughing out loud, however many sex jokes were made, I was bored, and irritated. Now I ask myself, why in the world would two of the funniest men in hollywood, who created one of the most successful comedy website, chose to sponsor and release this? I'll tell you one thing, I would rather be hit then sit through 'The Virginity Hit'. Read more reviews at www.creedsdelight.com
Matt Goodman
Super Reviewer
½
Cast: Matt Bennett, Zack Pearlman, Jacob Davich, Justin Kline, Krysta Rodriguez, Nicole Weaver, Harry Zittel, Savannah Welch, Seth Barrish, Tina Parker Director: Huck Botko, Andrew Gurland Summary: The quest -- losing one's virginity -- is an ancient one, but the tools used to document it are distinctly modern in this documentary about a young man's endeavors to "close the deal," as his buddies (and documentarians) so charmingly put it. When Matt's untimely breakup with a girlfriend throws a monkey wrench into his plans, his friends urge him to continue the mission anyway -- with them along to film the adventures. My Thoughts: "Matt and Zach's relationship reminded me of Jonah Hill and Michael Cera's, in the film 'Superbad'. The film had the feel of the movie's 'Superbad' and 'American Pie'. There are quite a few funny moments, and some pretty down right embarrassing one's for poor Matt. Worth taking a look at if you liked 'Superbad' and the 'American Pie', flicks."
♥˩ƳИИ ƜѲѲƉƧ♥
Super Reviewer
The Virginity Hit Quotes
There are no approved quotes yet for this movie.