The Visitor
(1979)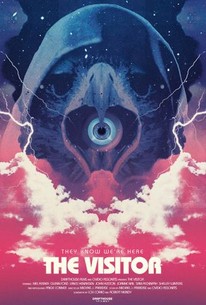 Movie Info
In the dawn of '70s American blockbusters, European production companies emerged stateside, attempting to recreate box office gold by cloning Hollywood. The infamous Supreme Court-banned Jaws copy Great White, The Exorcist-esque Beyond The Door, and countless otherswere packaged for export and the burgeoning drive-in circuit. Producer Ovidio G. Assonitis and Director/Professional Body Builder Michael J. Paradise's TheVisitorstands as perhaps the most ambitious of all, taking its inspiration by artfully fusing The Omen, Close Encounters Of The Third Kind, The Birds, Rosemary's Baby, The Fury and Star Wars alongside a baffling cast that includes Shelley Winters (NightOfTheHunter), Glenn Ford (Superman), Lance Henriksen (Aliens), Franco Nero (Django) and Sam Peckinpah (director of TheWildBunch). (c) Drafthouse Films
Critic Reviews for The Visitor
Audience Reviews for The Visitor
Badly directed, photographed, written and acted this terrible thing provided a paycheck for several slumming highly regarded actors in supporting roles and the opportunity to watch two horrible performances by the two lead actresses. A real stinker.
½
Not quite sure why I like this movie but I do. It's a fairly patchy and confused horror/scifi story with a very impressive cast and a strange compelling quality that makes the viewer watch to the end. Reminds me a little of some of the themes explored by the Blue Oyster Cult in song over the years. Despite its faults I rather enjoyed it.
The Shrewlord
Super Reviewer
½
Completely insane and what a cast! Not particularly good, but no self-described cinephile will be able to turn away.
The Visitor Quotes
There are no approved quotes yet for this movie.